Shakespeare is for everyone — including kids!
We believe in instilling the love of Shakespeare and live theatre early in life. It's our mission to make it fun. Check out all CSC has to offer for the next generation of Shakespeareans.
FREE Shakespeare for Kids at PFI
Chesapeake Shakespeare Company In-The-Ruins is a family-friendly theatre experience in Howard County's Patapsco Female Institute (PFI) Historic Park.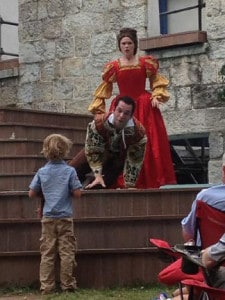 Tickets are FREE for anyone under the age of 19 at performances at PFI Historic Park. Two (2) youths may accompany each paying adult for free, by advance reservation. For more more information or to reserve Free Shakespeare for Kids tickets, contact the Box Office by phone 410-244-8570 or email.
We are deeply grateful for the generous underwriters, sustaining sponsors, and media partners who make Free Shakespeare for Kids possible. Thank you so much!
Learn more about general sponsorship opportunities here. Interested in sponsoring our Free Shakespeare for Kids program? Read the details here. Or contact our development department at 410-244-8571, ext. 107.
How much fun can your kids have?
Pre-show entertainment includes live music.
Crafts take place at the picnic tables.
On Sundays, an actor will tell the story of the play before the performance, to help children understand what they'll be seeing.
Explore the ruins of the Patapsco Female Institute, a 19th Century girls' school and historic landmark.
Youth Tickets in Baltimore
Anyone age 25 and under qualifies for discount priced tickets and/or subscriptions for all CSC shows. Proof of age required to pick up tickets.
Youth under the age of 18 qualify for FREE tickets to our outdoor shows. Limit of one for each adult ticket purchased.
PNC Family Room in Baltimore
The PNC Family Room in our Downtown Baltimore theatre is provided for our youngest patrons who may need a break from the action onstage. If your young one is over-stimulated, there's a comfy chair to sit quietly and read; or toys, games, cotumes, and more, for those who get a little bored. The room is not chaperoned, therefore a parent or guardian must accompany his or her child in that room. There is a video monitor so parents won't miss a minute of the performance.
Camps and Classes for Youth
Chesapeake Shakespeare Company offers enriching and engaging programming for youth year round! Classes are available in the fall, winter, and spring, with summer camp once school is out. Most programming appropriate for students in grades 2-8, with separate, age-appropriate programs for high school-aged children.
School programming is also available for students receiving public, private, and home school education through their centers of learning.
To learn more about CSC Classes, click here.
To learn more about CSC Summer Camp, click here.
To learn more about our school programs, including residencies and student matinees, click here.