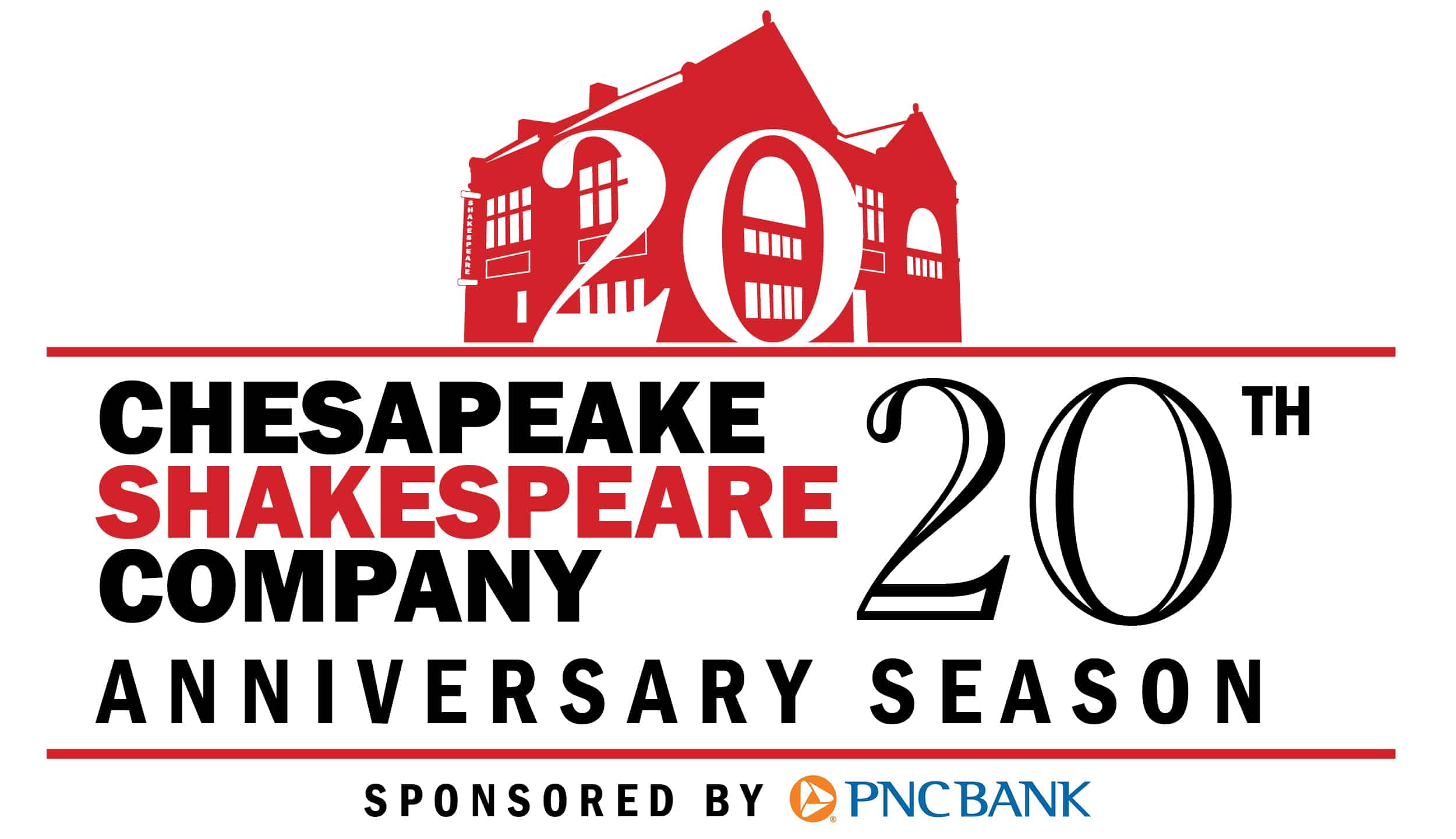 Fixed subscriptions for our 2022-23 Season are not currently available, but consider CSC Flex Passes!
Love CSC, but not ready to choose specific shows or dates? Introducing our new Flex Passes! Purchase a pack of 3, 4, 6, or 8 passes and receive a 10% discount. Redeem these tickets for any show at any time during our season. Click below or call the box office for more details!
CSC is both happy and proud to be announcing our 20th Anniversary Season.
 Twenty years ago, a small group of gifted and optimistic artists opened a brand-new Shakespeare company in Ellicott City on a shoestring budget. And look at us now! It is thanks to
 you
 and your presence and support that we have reached this score of years.
We are delighted to bring a year-long anniversary season to you full of great shows you won't want to miss.

Shakespeare's great romantic comedy of mistaken identity, music, and mischief. We kick off our year-long anniversary celebration by revisiting our inaugural presentation of Twelfth Night with the original director, Founding Artistic Director Ian Gallanar, at the helm. The 2022 anniversary production, set in turn-of-the-last-century, will feature a cast of many of your CSC company favorites.

A Christmas Carol with a Baltimore twist returns, re-imagined by Company Member and historian Laura Rocklyn and directed by Shanara Gabrielle. A delight for all ages, this is a giddy, warm-hearted, and fast-paced trip back to 19th century Baltimore and Charles Dickens' classic story. (Please note that Flex Passes may not be used for A Christmas Carol.)

It's no joke! You asked for it, and we're bringing it back -- but it's better than ever. The Complete Works of William Shakespeare (Abridged) returns in 2023 with the national premiere of a brand-new revised script! Thirty-seven plays in 97 minutes! Three madcaps in tights weave their wicked way through Shakespeare's comedies, histories, and tragedies in one irreverent night that will leave you helpless with laughter.

For our 20th year, we had to tackle Hamlet.  Shakespeare's greatest play is also a fast-paced drama overflowing with robust language, piercing ideas, and dark humor. CSC Company Member Vince Eisenson will play the tragic, brilliant, witty prince and nationally-recognized Shakespeare director Eleanor Holdridge will direct.

Shakespeare under-the-stars returns and something wicked this way comes in this streamlined production. Ambition, murder, and prophecies lead to madness in Shakespeare's poetic and supernatural tragedy, Macbeth. Presented by CSC's Black Classical Acting Ensemble. (Location TBA. Please note, this production is a Season Extra, and not part of the 22-23 subscription.)
Mark your calendars for SATURDAY, NOVEMBER 5 for our
CAPULET MASKED BALL
a gala event to celebrate our 20th birthday!