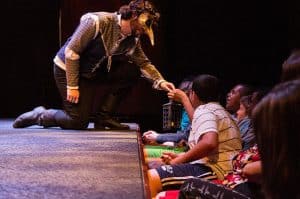 Bring your students to our beautiful downtown space, and let them experience live theatre, performed by professional, local artists. Let them hear the sumptuous and witty language, listen to our musical selections before and during the show, watch thrilling swordfights, and share in an intimate and powerful production of some of the greatest plays ever written. Every performance is followed by an optional talk back with the actors, where students deepen their understanding of Shakespeare, and find out about the making of the play, performing arts careers, and how Chesapeake Shakespeare Company connects with its audience.
Macbeth
by William Shakespeare
"Something wicked this way comes."
Prophecy, ambition, and murder lead to sleeplessness and madness in Shakespeare's bloody tragedy.
Starting Time: 10:00 a.m.
Running Time: 1 hour, 35 minutes (NO INTERMISSION)
Postshow Artist Talkback: 20 minutes
Recommended Audience: Grades 9–12
Romeo and Juliet
by William Shakespeare
"Here's much to do with hate, but more with love."
Our sixth year of presenting the tragic tale of Shakespeare's star-crossed lovers.
Starting Time: 10:00 a.m.
Running Time: 1 hour, 40 minutes (NO INTERMISSION)
Postshow Artist Talkback: 20 minutes
Recommended Audience: Grades 6–9
| | |
| --- | --- |
| NUMBER OF STUDENTS | PRICE |
| under 10 | $24 |
| 10–40 | $22 |
| 41–120 | $20 |
| 121–240 | $18 |
| over 240 | $16 |
Post-Matinee Workshop (60–90 minutes): $7 per student
Chaperones
One chaperone receives free admission per 10 students (seat not guaranteed).
Additional chaperones admitted at per-student rate.
Contact Ron Heneghan, our Director of Education, at 410-244-8571, Ext. 113, or send an email to Heneghan@chesapeakeshakespeare.com. Also ask about our school residencies and workshops that align with your curriculum and deepen the students' understanding of Shakespeare.
Address: 7 South Calvert Street, Baltimore, MD 21202 (corner of Calvert and Redwood Streets, downtown)
Theatre capacity: 265 seats
Accessibility: Our space conforms to ADA standards. An elevator provides easy access to all levels of seating in the theatre, and we have both dedicated and unrestricted restrooms on two levels. Our performances are sensory friendly. We leave audience lighting at a level that accommodates the full theatre. We also have the PNC Family Room on the ground level that allows room for fidgety students and privacy for behavioral challenges. Please let us know if your students require special accommodations. We're glad to have you and your students join us!
If you are arriving by car: On weekday mornings, our downtown parking partner is a neighboring business,The QG, located at the corner of Calvert Street and Water Street. You may use The QG's parking valet service, which opens at 9:30am. Look for the umbrella and valet stand on Water Street. Valet parking is $12, and the attendant parks your car in the Water Street Garage. No shuttles or buses, please. Most other garages will charge community day rates greater than $20. Most metered parking is restricted before 10am, so we recommend using the valet or a garage. 
CSC discount parking vouchers are not accepted at this valet and are not valid at Arrow Parking Garage on weekdays during morning commuter hours. Theatre discount parking vouchers are good at night and on weekends.
If you are arriving by school bus or shuttle: Please coordinate with us to pull up on the Calvert Street side of the building and drop off students safely. Buses must then move to another location. No parking is permitted on Calvert Street before 10am.