Chesapeake Shakespeare Company Presents AS YOU LIKE IT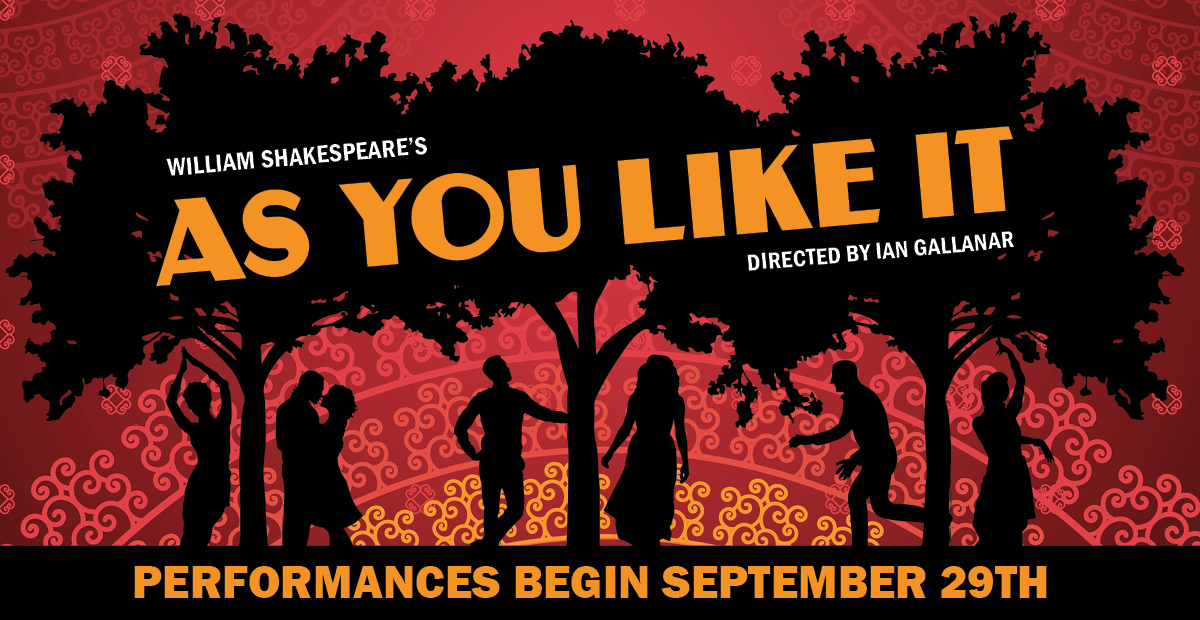 FOR IMMEDIATE RELEASE
PRESS CONTACTS:
CSC Communications Manager
Jalen Lee, 410-244-8571 x119
lee@chesapeakeshakespeare.com
Chesapeake Shakespeare Company Presents:
AS YOU LIKE IT
Baltimore (8.31.2023) - Marking their 21st anniversary season, Chesapeake Shakespeare Company (CSC) opens with a captivating and melodious rendition of As You Like It, directed by Founding Artistic Director Ian Gallanar. Set against the backdrop of a lush, mystical forest, a delightful cast of characters led by the brilliant Rosalind discover themselves in a land far away from the gaze of the royal court. As You Like It runs from September 29 through October 22, 2023, with previews on September 27 and 28. Press night is September 29.
Exiled from the royal court, Rosalind takes refuge within the enchanting realm of the Forest of Arden. Assuming a clever disguise as boy shepherd, she crosses paths with Orlando, who unknowingly reveals his affection for the concealed heroine. Embracing the role, she has Orlando woo her under the guise of "curing" him of his love for Rosalind. Along the way, she teaches Orlando and others around her to broaden their understanding of romance and learn how to love better. CSC Company Member Lauren Davis portrays the spirited Rosalind in this heart-tugging production.
Founding Artistic Director Ian Gallanar transforms the Forest of Arden into a cultural common ground, where the story's beloved characters bring fragments of their unique pasts. "What interests me about the play are the themes of redemption and the power of love to change people's hearts," says Gallanar. "The great critic Harold Bloom categorizes this play's heroine Rosalind as comparable to the stature of Hamlet in Shakespeare's canon. He might be right. Our production leans into the idea that, when people are free to be their best selves, they open themselves up to happy endings."
"We're thrilled to open our season with this beloved romantic comedy," says Producing Executive Director Lesley Malin. "This smart and funny production encourages us to embrace a world of unconventional perspectives, perfectly aligning with our season's rule-breaking theme. As You Like It sets the stage for a year of laughter, love, and a little bit of revenge."
Following As You Like It is CSC's popular adaptation of A Christmas Carol. The company's version of the holiday classic has become a tradition for the City of Baltimore. After staging A Christmas Carol, CSC will produce the organization's first Greek tragedy, The Oresteia, followed by a dynamic take on Romeo & Juliet that is set in the age of protest. The season will close with an outdoor showing of the riotous comedy The Merry Wives of Windsor. For more information about Chesapeake Shakespeare Company's 2023-24 season, visit ChesShakes.com/subscriptions.
TICKETS
Adult tickets start at $29, tickets for youth under 25 start at $28, and preview tickets are $24. To purchase tickets, visit ChesapeakeShakespeare.com, or contact the Box Office directly by calling 410-244-8570 or visiting in person at 7 South Calvert Street. Discounts are available for groups of ten or more and active-duty military. For more information or to purchase tickets, click here.
LOCATION
Chesapeake Shakespeare Company is located at 7 South Calvert Street, Baltimore, MD 21202, two blocks north of the Inner Harbor. Parking is available for the discounted rate of $5 at the Arrow Parking covered lot on 204 East Lombard Street. The theatre is also accessible using the FREE Charm City Circulator and is located on the Purple Route. For more detailed information about directions, parking, and public transportation, click here.
PRODUCTION INFORMATION
As You Like It
By William Shakespeare
Directed by Ian Gallanar
DATES AND TIMES
Wednesday, September 27 at 8:00 PM - PREVIEW
Thursday, September 28 at 8:00 PM - PREVIEW
Friday, September 29 at 8:00 PM - OPENING NIGHT/PRESS NIGHT
Saturday, September 30 at 8:00 PM
Sunday, October 1 at 2:00 PM
Friday, October 6 at 8:00 PM
Saturday, October 7 at 8:00 PM
Sunday, October 8 at 2:00 PM
Thursday, October 12 at 7:30 PM
Friday, October 13 at 8:00 PM
Saturday, October 14 at 8:00 PM
Sunday, October 15 at 2:00 PM
Thursday, October 19 at 7:30 PM
Friday, October 20 at 8:00 PM
Saturday, October 21 at 2:00 PM
Saturday, October 21 at 8:00 PM
Sunday, October 22 at 2:00 PM
CAST LIST
Lizzi Albert* - Phebe
Gabriel Alejandro - Orlando
Dylan Arredondo – Touchstone
Jordan Brown - Silvius/Charles
Gregory Burgess* - Duke Frederick, Hymen the Love God
Surasree Das - Celia
Lauren Davis* - Rosalind
Kate Forton* - Audrey
Jonas Connors-Grey* - Corin
Ethan Larsen - Oliver
Elana Michelle* - Amiens
Brendan Murray - Duke Senior
Scott Alan Small* - Adam
Michael P. Sullivan* - Jaques
Saraniya Tharmarajah - Le Beau/Lord
Ty Velines - William
CREATIVE TEAM
Ian Gallanar* - Director
Sarah Curnoles* - Production Manager
Marshall Garret - Stage Manager
Dan O'Brien* - Technical Director & Facilities Manager
Kathryn Kawecki - Set Designer
Kristina Lambdin* - Costume Designer
Jeniffer Leon - Lighting Designer
Mark Williams - Projection Design
Grace Srinivasan* - Music Director
Jordan Stanford - Intimacy & Fights Director
Shea Hemby - Dance & Movement Choreography
Ami Dang - Composer
Assistant Director* - Molly Moores
Production Associate* - Dawn Thomas Reidy
Cat Moreschi - Assistant Stage Manager
John Bakker - Props Artisan
Jess Rassp - Puppet Maker
*Notes a member of Chesapeake Shakespeare Company
ABOUT CHESAPEAKE SHAKESPEARE COMPANY
Founded in 2002 Chesapeake Shakespeare Company brings great classic theatre to Baltimore, Howard County, the state of Maryland, and beyond. The company offers performances of Shakespeare and other plays of classic stature that are unforgettable, challenging, and innovative. In 2012, Chesapeake Shakespeare Company acquired the Mercantile Safe Deposit and Trust Company building in downtown Baltimore, renovating it into a modern Globe Theater for indoor performances, while continuing to produce outdoor Shakespeare every summer at the PFI Historic Park in Howard County. The organization regularly serves 30,000+ people annually through artistic projects and intentional community engagement. CSC's vibrant education program includes an extensive matinee series, camps, classes, and in and out-of-school residencies. The company invites patrons, students, and neighbors to become part of the creative collaboration that generates powerful, magical theatre and a more purposeful, engaged, and connected community.