CSC PRESENTS NEW REVISION OF AWARD-WINNING COMEDY THE COMPLETE WORKS OF WILLIAM SHAKESPEARE (ABRIDGED)[REVISED][AGAIN]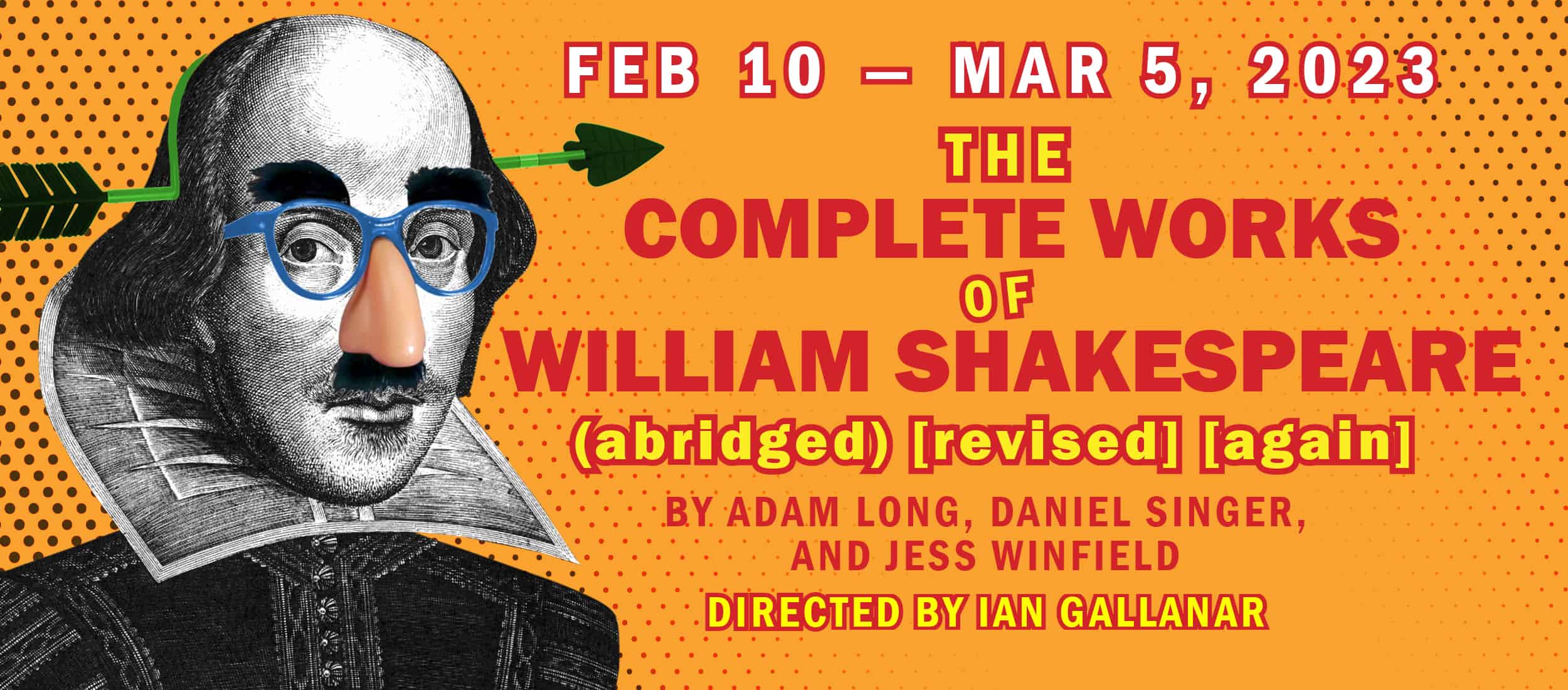 FOR IMMEDIATE RELEASE
PRESS CONTACTS:
CSC Communications Manager
Jalen Lee, 410-244-8571 x119
lee@chesapeakeshakespeare.com
CSC PRESENTS NEW REVISION OF AWARD-WINNING COMEDY
THE COMPLETE WORKS OF WILLIAM SHAKESPEARE (ABRIDGED)[REVISED][AGAIN]
Baltimore, MD (1.12.2023) – Chesapeake Shakespeare Company (CSC) continues its 20th anniversary season with the fast-paced, clever, crowd-pleasing comedy, The Complete Works of William Shakespeare (Abridged) [Revised] [Again], directed by CSC Founding Artistic Director Ian Gallanar. Back by popular demand and with a completely revised script, Complete Works runs Feb. 10 - Mar. 5, with previews Feb. 8-9 and press night on Feb. 10.
The Complete Works of William Shakespeare (Abridged) was originally written by Adam Long, Daniel Singer, and Jess Winfield and Chesapeake Shakespeare Company will be performing a brand-new revision that was crafted during the pandemic. Over the years, the play has been revised and revised again to reflect changing attitudes, to offer greater inclusivity, and, now, to be funnier than ever. This award-winning production has been entertaining audiences worldwide for over 25 years. The play is an irreverent and comic salute to Shakespeare's works and a tribute to his enduring popularity.
Ian Gallanar returns to direct the production after most of the previous run was canceled due to the COVID pandemic. "A new cast will create an entirely different show based on their skills, senses of humor, and dynamics," says Gallanar. "Complete Works is a way to bite the hand that feeds us. It is a funny show, and we have funny actors performing it."
"We were well on our way to a record-breaking attendance when the pandemic stopped our March 2020 production in its tracks. Our audiences clamored for us to bring it back, but Delta had other ideas in October 2021. The silver lining to this third-time's-the-charm production is that we get to be the first significant professional production of this revised script -- which is funnier than ever before," notes Producing Executive Director, Lesley Malin.
CSC newcomer Shaquille Stewart and CSC Company Members Kathryne Daniels and Scott Alan Small perform as three eccentric madcaps. Throughout the play, the actors perform shortened and condensed interpretations of Shakespeare's plays, including classics such as Romeo and Juliet and Macbeth. Highlights include the cannibalistic drama, Titus Andronicus, performed as a cooking show, the royal kings from Shakespeare's histories battling it out on a football field, and an entire Hamlet zoomed through in a record-breaking 43 seconds.
Complete Works is a must-see for anyone in need of some comic relief and a fun night out. With its inclusion of pop cultureand audience participation, the production is a clever and painless way to introduce Shakespeare's plays to new audiences while being Shakespeare-smart enough to delight long-time fans.
The Complete Works of Williams Shakespeare (Abridged)[revised][again] opens Friday, Feb. 10, with previews on Feb. 8 and 9 and closes Sunday, Mar. 5.
For more information, visit www.chesapeakeshakespeare.com or call the box office at 410-244-8570. Press night is Friday, Mar. 6. Tickets are $23-$69.
Originally produced by Reduced Shakespeare Company. The Complete Works of William Shakespeare (abridged) [revised] [again] is produced by special arrangement with Broadway Play Publishing inc, NYC www.broadwayplaypub.com
PRODUCTION INFORMATION
The Complete Works of William Shakespeare (Abridged) [Resivsed] [Again]
By Adam Long, Daniel Singer, and Jess Winfield
Revised by Daniel Singer and Jess Winfield
Directed by Ian Gallanar
CAST LIST (in alphabetical order)
Kathryne Daniels* - Self
Scott Alan Small* - Self
Shaquille Stewart - Self
Holly Gibbs - Understudy, Scott/Kathryne
Teddy Sherron - Understudy, Shaquille
CREATIVE TEAM
Ian Gallanar* - Director
Paul Wissman - Assistant Director
Sarah Curnoles* - Production Manager
Alexis E. Davis* - Production Stage Manager
Dan O'Brien* - Technical Director & Facilities Manager
Misha Kachman - Set Designer
Kristina Lambdin* - Costume Designer
Katie McCreary* - Lighting Desginer
Nikki Lafaye - Props Designer
Tyrel Brown - Assistant Stage Manager
Dawn Thomas Reidy* - Production Associate
Bess Kaye - Intimacy and Fight Choreographer
Ashley Sigmon - Wardrobe Supervisor
Mandy Benedix* - COVID Safety Manager
Pam Forton* - Senior House Manager
* Notes a Chesapeake Shakespeare Company Member
WHERE
Chesapeake Shakespeare Company is located at 7 South Calvert Street, Baltimore, MD 21202. The theatre is located two blocks north of the Inner Harbor. Parking is available for the discounted rate of $5 at the Arrow Parking covered lot on 204 East Lombard Street. The theatre is also accessible using the FREE Charm City Circulator and is located on the Purple Route. For more detailed information about directions, parking, and public transportation, click here.
DATES AND TIMES
Wednesday, Feb. 8, at 8:00pm - PREVIEW
Thursday, Feb. 9, at 8:00pm - PREVIEW
Friday, Feb. 10, at 8:00pm - PRESS/OPENING NIGHT
Saturday, Feb. 11, at 8:00pm
Sunday, Feb. 12, at 2:00pm
Friday, Feb. 17, at 8:00pm
Saturday, Feb. 18, at 8:00pm
Sunday, Feb. 19, at 2:00pm
Thursday, Feb. 23, at 7:30pm
Friday, Feb. 24, at 8:00pm
Saturday, Feb. 25, at 2:00pm
Saturday, Feb. 25, at 8:00pm
Sunday, Feb. 26, at 2:00pm
Thursday, Mar. 2, at 7:30pm
Friday, Mar. 3, at 8:00pm
Saturday, Mar. 4, at 8:00pm
Sunday, Mar. 5, at 2:00pm
TICKETS
Adult tickets start at $45, tickets for youth 25 and under start at $23, and preview tickets are $24. For more information or to purchase tickets, visit ChesShakes.com/completeworks, or contact the Box Office directly by calling 410-244-8570 or visiting in person at 7 South Calvert Street. Discounts are available for groups of ten or more adult and active-duty military.
ABOUT CHESAPEAKE SHAKESPEARE COMPANY:
Founded in 2002 Chesapeake Shakespeare Company brings great classic theatre to Baltimore, Howard County, the state of Maryland, and beyond. The company offers performances of Shakespeare and other plays of classic stature that are unforgettable, challenging, and innovative. In 2012, Chesapeake Shakespeare Company acquired the Mercantile Safe Deposit and Trust Company building in downtown Baltimore, renovating it into a modern Globe Theater for indoor performances, while continuing to produce outdoor Shakespeare every summer at the PFI Historic Park in Howard County. The organization regularly serves 30,000+ people annually through artistic projects and intentional community engagement. CSC's vibrant education program includes an extensive matinee series, camps, classes, and in and out-of-school residencies. The company invites patrons, students, and neighbors to become part of the creative collaboration that generates powerful, magical theatre and a more purposeful, engaged, and connected community.