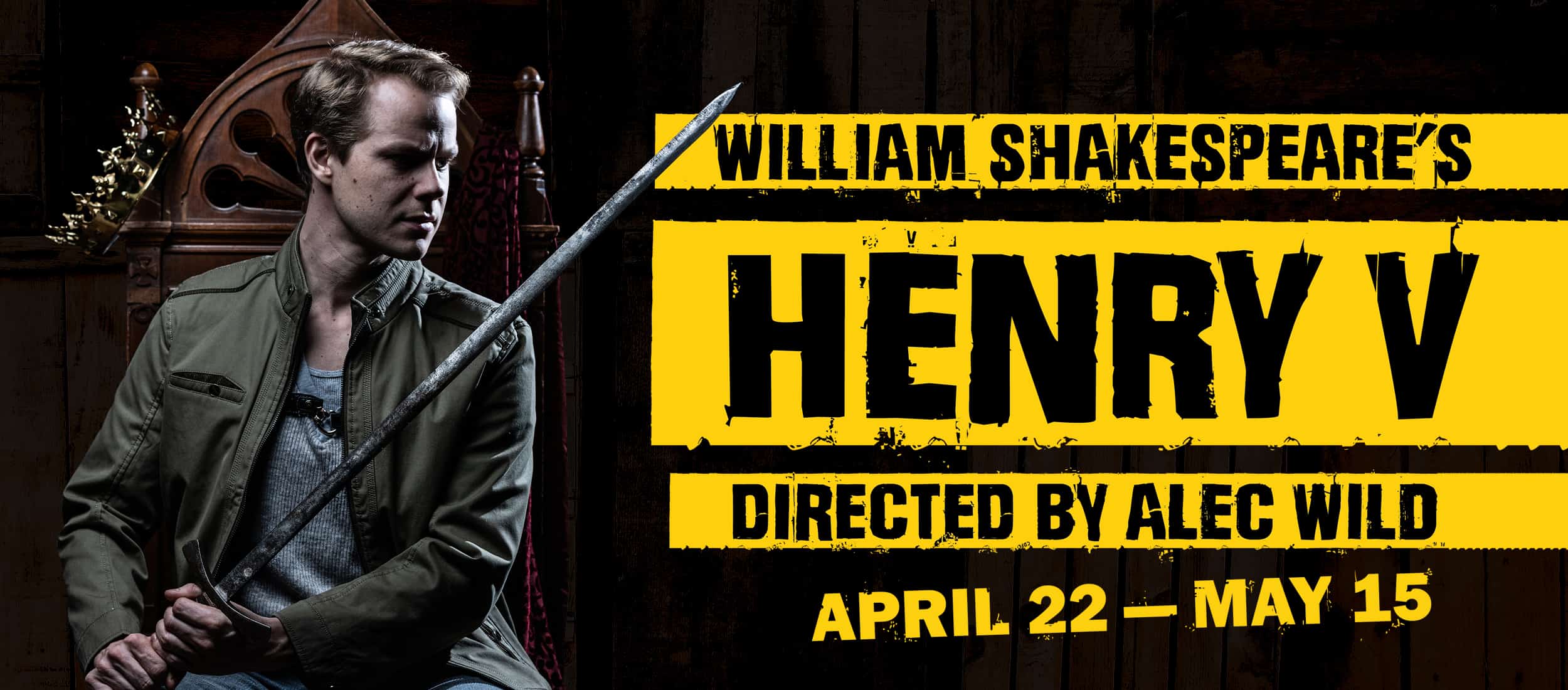 For easier viewing turn your device to landscape (horizontal) mode.

Ian Gallanar Founding Artistic Director
Lesley Malin Producing Executive Director
HENRY V
By William Shakespeare
Directed by Alec Wild**
Production Manager: Sarah Curnoles*
Assistant Director: Séamus Miller*
Production Stage Manager: Jesús López Vargas
Scenic Designer/Technical Director: Dan O'Brien*
Costume Coordinator: Kristina Lambdin*
Lighting Designer: Minjoo Kim
Fight Choreographer: Robb Hunter**+
Props Designer: Jess Rassp*  
Music Director: Grace Srinivasan*
Setting
England and France, the early 1400's
CAST

THE ENGLISH:
KING HENRY V — Samuel Adams+
DUKE OF EXETER, the King's uncle — Dawn Thomas Reidy
DUKE OF GLOUCESTER, the King's brother — Bess Kaye
DUKE OF BEDFORD, the King's brother — Ian Charles*
HENRY IV, his father — Michael Crowley+*
ARCHBISHOP OF CANTERBURY — Jonas Connors-Grey*
BISHOP OF ELY — Morgan Pavey
EARL OF WESTMORLAND — Terrance Fleming*
EARL OF CAMBRIDGE, traitor to England — Jonas Connors-Grey*
LORD SCROOP, traitor to England — Ian Charles*
SIR THOMAS GREY, traitor to England — Ryan Tumulty
FLUELLEN, Welsh officer — Michael Crowley*+
GOWER, English officer — DeJeanette Horne
PISTOL, ensign, companion of Falstaff — Sam Richie
BARDOLPH, companion of Falstaff, now a lieutenant — Jonas Connors-Grey*
NYM, companion of Falstaff, now a corporal — Ian Charles*
NELL QUICKLY, companion of Falstaff, now married to Pistol — Teresa Spencer
FALSTAFF, knight, and companion to Harry in his youth — DeJeanette Horne
WILLIAMS, a soldier — Ian Charles*
BATES, a soldier — Ryan Tumulty
BOY, servant to Falstaff, now serving the army — Oz Heiligman

The French
KING OF FRANCE - Jonas Connors-Grey*
DAUPHIN, his son and heir - Terrance Fleming*
PRINCESS KATHERINE, his daughter - Morgan Pavey
DUKE OF ORLÉANS - Bess Kaye
DUKE OF BURGUNDY - Ryan Tumulty
LORD RAMBURES, French nobleman - DeJeanette Horne
CONSTABLE OF FRANCE, nobleman - Michael Crowley*+
MONTJOY, Herald of the French King - Ryan Tumulty
GOVERNOR OF HARFLEUR - DeJeanette Horne
FRENCH SOLDIER - Teresa Spencer
FRENCH MESSENGER - Oz Heiligman
FRENCH HERALD - Morgan Pavey
ALICE, Katherine's attendant - Teresa Spencer
CHORUS - Lesley Malin*
ARTISTIC AND CREATIVE TEAM
Alec Wild** — Director
Séamus Miller*+ — Assistant Director
Sarah Curnoles* — Production Manager
Jesús López Vargas — Production Stage Manager
Dan O'Brien* — Scenic Designer/Technical Director
Minjoo Kim — Lighting Designer
Kristina Lambdin* — Costume Coordinator
Jess Rassp* — Props Designer
Caleb Stine — Composer
Lisa Beley — Text and Vocal Coach
Robb Hunter**+ — Fight Choreographer
Grace Srinivasan* — Music Director
Abigail Funk* — Rehearsal Stage Manager
Eva Hill — Assistant Stage Manager
Dassi Cohen — Production Assistant
Hannah Brill — Wardrobe Supervisor
Heather Jackson, Matthew Smith — Costume Assistants
Jennifer Bae — Stitcher
Kristopher Ingle — Lightboard Operator
Bess Kaye — Fight Captain
Chester Stacy — Carpenter and Painter
Ben Kenny — Backstage intern
Danielle Williams — Musical accompaniment
Mandy Benedix* — Covid Safety Officer
Dr. Bob Connors — CSC Covid Health Advisor
Pam Forton* — Senior House Manager
Donna Burke, Abigail Funk, Stacey Morrison, Tony Pernasilice — House Managers
Content Advisory: This production contains adult language, scenes of violence, and depiction of a hanging
* CSC Company Member
+ Member of Actors' Equity Association
** Member of the Stage Directors and Choreographers Society, a national theatrical union 

There will be one 15-minute intermission.
Videotaping, recording, and photography of any kind are prohibited during the performance.
Photos by Keston De Coteau, Keystone Productions. Graphic Illustration by Brandon W Vernon.
This production is dedicated to the memory of our dear friend, Patrick Hughes, who named our Hughes Family Stage.
Special Thanks
CSC Volunteers and Ushers, The Studio at the Chesapeake Shakespeare Company,
Bin 604 Wine + Spirits, Dr. Bob Connors, Cassandra Miller, Harry le Roy, Anna Mills Russell, Kiirstn Pagan, McClintock Distilling, Outdoor Vision Media, The Washington Post, Keston De Coteau of Keystone Productions
CAST PHOTOS (IN ALPHABETICAL ORDER)
UP NEXT AT CHESAPEAKE SHAKESPEARE COMPANY:

Board of Trustees 
Emily Rockefeller, President
Robin Hough, Vice President
Bill Henry, Treasurer
Lesley Malin, Secretary
Laura Boydston
Kevin G. Burke
Geri Byrd
Kimberly Citizen
Joseph Ferlise
Celina Figueroa
Neal Flieger
Ian Gallanar
Scott Helm
Renée S. Lane-Kunz
Jack McCann
Nora Brigid Monahan
Linda Pieplow
Earle W. Pratt, III
Nan Rohrer
STAFF
Ian Gallanar - Founding Artistic Director
Lesley Malin - Executive Producing Director
Michael Lonegro - Director of Operations and Finance
Kristina Lambdin - Resident Costume Designer & Business Manager
Brandon W Vernon - Marketing Manager & Graphic Designer
Sarah Curnoles - Production Manager
Daniel O'Brien - Technical Director & Facilities Manager
Ron Heneghan - Director of Education
Troy Jennings - Education Manager
Gerrad Alex Taylor - Associate Artistic Director
Jose O. Guzman - Institutional Giving Manager
Mandy Benedix - Box Office Manager
Pamela S. Forton - Senior House Manager
Miranda Solomon - Marketing & Development Assistant
Chester Stacy - Assistant Technical Director & Assistant Facilities Manager
Russell Laury - Porter
THE ARTISTIC COMPANY
Lizzi Albert
Greg Atkin
Mike Boynton
Mindy Braden
Gregory Burgess
Ian Charles
Tamieka Chavis
Jonas Connors-Grey
Michael Crowley
Kathryne Daniels
Alexis E. Davis
Lauren Davis
Anna DiGiovanni
Kelly Durkin
Vince Eisenson
Lauren Engler
Valerie Fenton
Ashly Fishell
Terrance Fleming
Kate Forton
Dave Gamble
Ruthie Griffith
Jose Guzman
Michael Harris
Ron Heneghan
Alexandra Hewett
Steven Hoochuk
Heather C. Jackson
Elliott Kashner
Brendan Edward Kennedy
Michael Lonegro
Lesley Malin
Briana Manente
Katie McCreary
Elana Michelle
Séamus Miller
Molly Moores
Frank B. Moorman
Christopher Niebling
JC Payne
Mary Pohlig
Jessica Rassp
Laura Rocklyn
Scott Alan Small
Chester Stacy
Erin Bone Steele
Michael P. Sullivan
Gerrad Alex Taylor
Nathan Thomas
Quincy Vicks
RESIDENT ARTISTS
Isabelle Anderson - Distinguished Artist in Residence
Kevin Costa - Educator in Residence
Nellie K. Glover - Resident Dance Choreographer
Kristina Lambdin - Resident Costume Designer
Grace Srinivasan - Resident Music Director
Brandon W Vernon - Resident Graphic Designer
TEACHING ACTING COMPANY
Kelly Durkin
Alexandra Hewett
Michael Harris
Ron Heneghan
Casey Kaleba
Emily Karol

Molly Moores
Laura Rocklyn
Caitlin Rogers
Gerrad Alex Taylor
Quincy Vicks
BLACK CLASSICAL ACTING ENSEMBLE
Renea Brown
Zipporah Brown
Tyrel Brown
Ashley Bufkin
Gregory Burgess
Tina Burkhalter
Tamieka Chavis
Lauren Davis
Terrance Fleming
Dominic Gladden
Isaiah Harvey

Lauren Jackson
Jamie Mann
Bethany Mayo
Elana Michelle
Dawn Thomas Reidy
JC Payne
Shaquan Pearson
Adrienne Powell
Keith Snipes
Gerrad Alex Taylor
Quincy Vicks
COMPANY MEMBERS EMERITI 
Steve Beall
Blythe Coons
Jenny Crooks
Karen Eske
B. J. Gailey

Robby Rose
Christina Schlegel
Dave Tabish
Wayne Willinger
Shannon Listol Wilson
OLIVE BRANCH LAUREL CROWN - CSC VETERAN ENSEMBLE
Christopher Bennett

Zach Fellers

David Hanauer

Matthew Imholte

Sharon Preator
Gary Pullen
Richard Wirth
Looking for a pre or post-show treat? Be sure to visit one of our favorite spots in town!

LoCal
206 E Redwood St.
Baltimore, MD 21202
Hours
Kitchen: 5 - 10PM
Bar: 5 - 11PM
Phone: (443) 835-2660

10 South St,
Baltimore, MD 21202
Hours
Friday 12 - 10PM
Saturday 4 - 10PM
Sunday Closed
Phone: (667) 312-2964