William Shakespeare's Henry V Returns to Chesapeake Shakespeare Company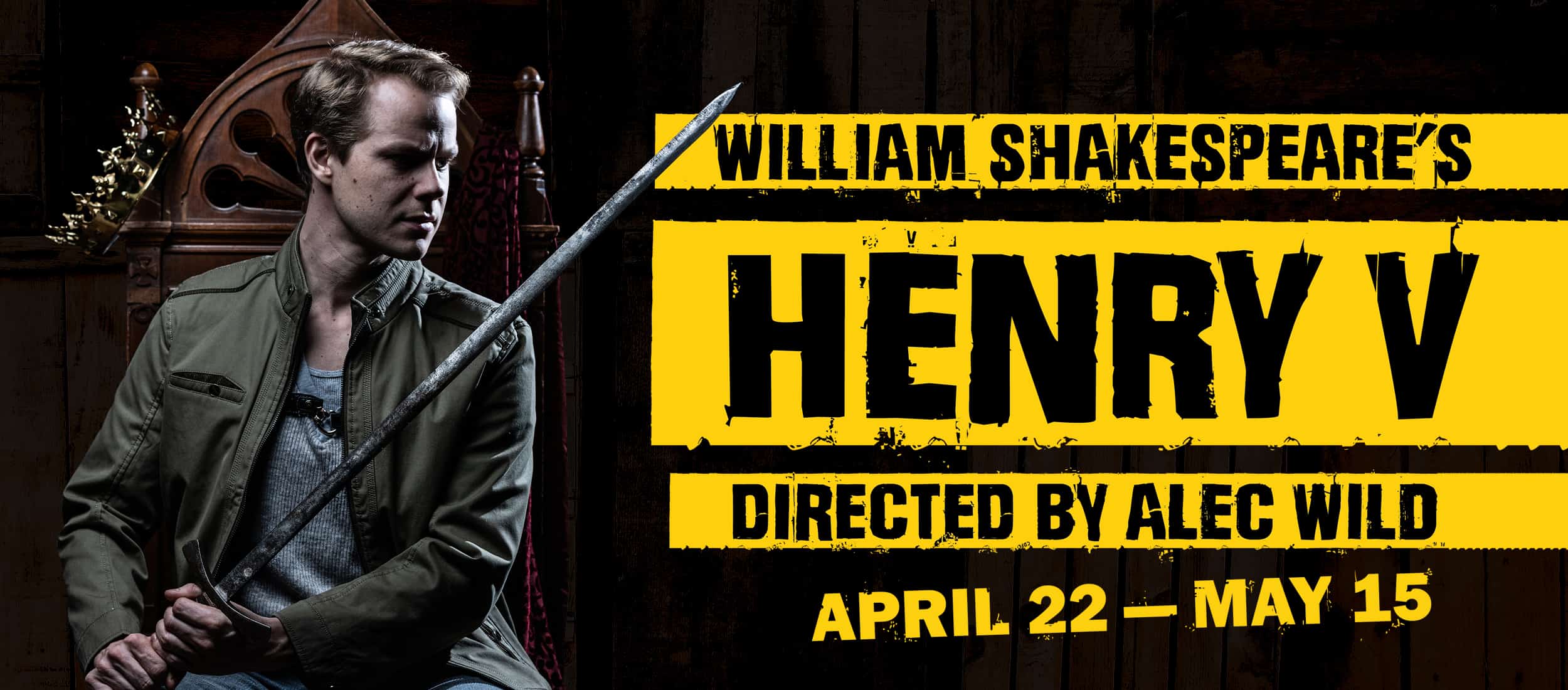 FOR IMMEDIATE RELEASE
PRESS CONTACTS:
CSC Marketing Manager
Brandon W Vernon, 410-244-8571 x116
vernon@chesapeakeshakespeare.com
Henry V Publicist
Cassandra Miller, 617-851-6128
cassandra.mil@gmail.com
WILLIAM SHAKESPEARE'S
HENRY V
RETURNS TO CHESAPEAKE SHAKESPEARE COMPANY
Performances Apr. 20-May 15 in downtown Baltimore
Baltimore, Md. (Mar. 22, 2022) – Chesapeake Shakespeare Company (CSC) continues its 19th Season with William Shakespeare's historical epic, Henry V, directed by Alec Wild. Henry V runs from Apr. 22 to May 15, with previews Apr. 20 and 21, and press night Apr. 22.
Shakespeare's most famous play about war is being presented at CSC's downtown Baltimore theatre for the first time, having last been staged in 2007 at the company's former home in Ellicott City. CSC produced the preceding two installments of the Henry series in 2019, with back-to-back productions of Henry IV, Parts 1 and 2. For the first time, also, CSC is collaborating with a popular Baltimore musician, Caleb Stine, who created original compositions for the production and who will perform at an acoustic concert in CSC's on-site lounge after the May 7 performance.
CSC's Producing Executive Director Lesley Malin (Chorus) is eager to stage Henry V because of its popular appeal and accessible themes. "Henry V is an audience favorite and, coming out of the pandemic, we wanted to offer a crowd pleaser that also spoke powerfully to our time," she says. "We have so much to learn watching King Henry grapple with eternal questions of leadership and the ambiguous way in which Shakespeare deals with themes of war. It has been debated for centuries whether or not Shakespeare was glorifying or condemning military action–or both."
Having been crowned king of England at the end of Henry IV, Part 2, Henry V picks up with the young monarch looking to prove himself—not only as the rightful ruler of France, but as someone deserving of his titles and worthy of his subjects' loyalty. After the French refuse to accept him as ruler, and an attempt is made on his life, Henry stands firm in his decision to invade France with his army, in spite of seemingly insurmountable odds.
Director Alec Wild, Senior Director of the Academy for Classical Acting at Shakespeare Theatre Company, says the play examines the complexity of war and heroism: "Shakespeare knew, as we know now, that 'honorable action' is a contradiction in terms. The reasons to go to war are myriad: political expediency, greed, power, ego, personal grudge, revenge, religion, fear, jingoism. Presidents, countries—kings—don't often go to war for honorable reasons. They do, however, use 'honorable reasons' to sell war to the people actually fighting it."
New York-based actor Samuel Adams, who studied under Wild at the Academy for Classical Acting, makes his CSC debut as the beleaguered King Henry V. He will be joined onstage by CSC Company Members Ian Charles, Michael Crowley, Terrance Fleming, Jonas Grey, and Lesley Malin. The cast is rounded out by Oz Heiligman, DeJeanette Horne, Bess Kaye, Morgan Pavey, Dawn Thomas Reidy, Sam Richie, Teresa Spencer, and Ryan Tumulty.
CSC will present community events complementing the Henry V production, including:
Masculinity, Warfare, & the State: The History behind Henry V, Sunday, May 1, at 1:15 p.m.
A Staged Reading of Brecht's Mother Courage, Monday, May 2, at 7 p.m.
Henry V: An Invitation to Theatrical Imagination, Saturday, May 7, at 1:15 p.m.
Henry V Afterparty Featuring the Music of Caleb Stine, Saturday, May 7, at 10:30 p.m.
"Meet the Director" Pre-show Event, Sunday, May 15, at 1:15 p.m.
For health and safety information on COVID-19 precautions, procedures, and requirements, visit www.chesapeareshakespeare.com or call the box office at 410-244-8570 for the most up-to-date information.
PRODUCTION INFORMATION
Henry V
By William Shakespeare
Directed by Alec Wild
ABOUT THE PLAY
The epic final installment of Shakespeare's Henry series comes to CSC's downtown Baltimore theatre for the first time. King Henry V has just ascended to the throne, but before he can rule his nation, he must prove himself as a leader of men. Armed with some of the most powerful lines in the Bard's arsenal, Henry and his "band of brothers" will overcome overwhelming odds. Don't miss our imaginative take on Shakespeare's great tale of leadership, war, and storytelling.
CAST LIST (in alphabetical order)
Samuel Adams+ – King Henry V
Ian Charles* – Nym/Duke of Bedford/Williams/others
Michael Crowley*+ – Fluellen/Henry IV/Constable/others
Terrance Fleming* – Dauphin/Earl of Westmorland
Jonas Grey* – Archbishop of Canterbury/Bardolph/King of France/others
Ryan Tumulty – Montjoy/Bates/Grey/others
Oz Heiligman – Boy/others
DeJeanette Horne – Gower/Governor of Harfleur/Rambures/others
Bess Kaye – Gloucester/Orléans
Lesley Malin* – Chorus
Morgan Pavey – Katherine/Bishop of Ely/others
Dawn Thomas Reidy – Duke of Exeter
Sam Richie – Pistol/others
Teresa Spencer – Nell Quickly/Alice/others
CREATIVE TEAM
Alec Wild** – Director
Séamus Miller*+ – Assistant Director
Sarah Curnoles* – Production Manager
Jesús López Vargas – Production Stage Manager
Dan O'Brien* – Scenic Designer/ Technical Director
Minjoo Kim – Lighting Designer
Kristina Lambdin* – Costume Coordinator
Jess Rassp* – Props Designer
Caleb Stine – Composer
Lisa Beley - Text and Vocal Coach
Robb Hunter**+ – Fight Choreographer
Grace Srinivasan* – Music Director
Abigail Funk* – Rehearsal Stage Manager
Eva Hill – Assistant Stage Manager
Dassi Choen — Production Assistant
Hannah Brill — Wardrobe Supervisor
Heather Jackson, Matthew Smith — Costume Assistants
Jennifer Bae — Sticher
Kristopher Ingle — Lightboard Operator
Bess Kaye — Fight Captain
Ben Kenny — Backstage Intern
Mandy Benedix* – Covid Safety Officer
Dr. Bob Connors – CSC Covid Health Advisor
Pam Forton* – Senior House Manager
* CSC Company Member  
+ Member of Actors' Equity Association
** Member of the Stage Directors and Choreographers Society, a national theatrical union
DATES AND TIMES (Apr. 20-May 15, 2022)
Wednesday, Apr. 20, at 8 p.m.  PREVIEW
Thursday, Apr. 21, at 8 p.m. PREVIEW
Friday, Apr. 22, at 8 p.m. OPENING, PRESS NIGHT
Saturday, Apr. 23rd, at 8 p.m.
Thursday, Apr. 28, at 7:30 p.m.
Friday, Apr. 29, at 8 p.m.
Saturday, Apr. 30, at 8 p.m.
Sunday, May 1, at 2 p.m.
Thursday, May 5, at 7:30 p.m.
Friday, May 6, at 8 p.m.
Saturday, May 7, at 2 p.m.
Saturday, May 7, at 8 p.m.
Sunday, May 8, at 2 p.m.
Thursday, May 12, at 7:30 p.m.
Friday, May 13, at 8 p.m.
Saturday, May 14, at 8 p.m.
Sunday, May 15, at 2 p.m. CLOSING
TICKETS
Subscriptions and tickets can be purchased online at ChesapeakeShakespeare.com, by calling 410-244-8570, or visiting the Box Office in person. Ticket prices range from $22-$58. Discounts are available for subscriptions, groups of ten or more, active-duty military, seniors, and anyone age 25 or younger. For more information or to purchase tickets, click here.
WHERE
Chesapeake Shakespeare Company is located at 7 S. Calvert Street, Baltimore, MD 21202. The theatre is located two blocks north of the Inner Harbor. Parking is available for the discounted rate of $5 at the Arrow Parking covered lot on 204 East Lombard Street. The theatre is also accessible using the FREE Charm City Circulator and is located on the Purple Route. For more detailed information about directions, parking, and public transportation, click here.
ABOUT CHESAPEAKE SHAKESPEARE COMPANY
Founded in 2002, Chesapeake Shakespeare Company is the leading classical theatre company in Maryla, offering vibrant performances that blow the dust off Shakespeare and delight its patrons. One of the six largest theatre companies in the state, CSC serves diverse audiences with funny, moving, rousing mainstage seasons, a vigorous education program that serves over 16,000 students annually in both theatre and the classroom, and a growing community engagement effort including a model Veterans program and the Black Classical Acting Ensemble. The Chesapeake Shakespeare Company has three venues. Its indoor performances are presented at the stunning, award-winning 266-seat Chesapeake Shakespeare Company Theatre, with a thrust stage uniquely designed for CSC performances. Next door to the theatre and linked are its administrative offices and The Studio at the Chesapeake Shakespeare Company, which serves as a classroom, rehearsal space, and alternative performance area. CSC's summertime outdoor home is in nearby Ellicott City and features performances and education programming at the PFI Historic Park, a gorgeous spot for picnicking and watching Shakespeare under the stars.