CSC presents Much Ado About Nothing outdoors in Ellicott City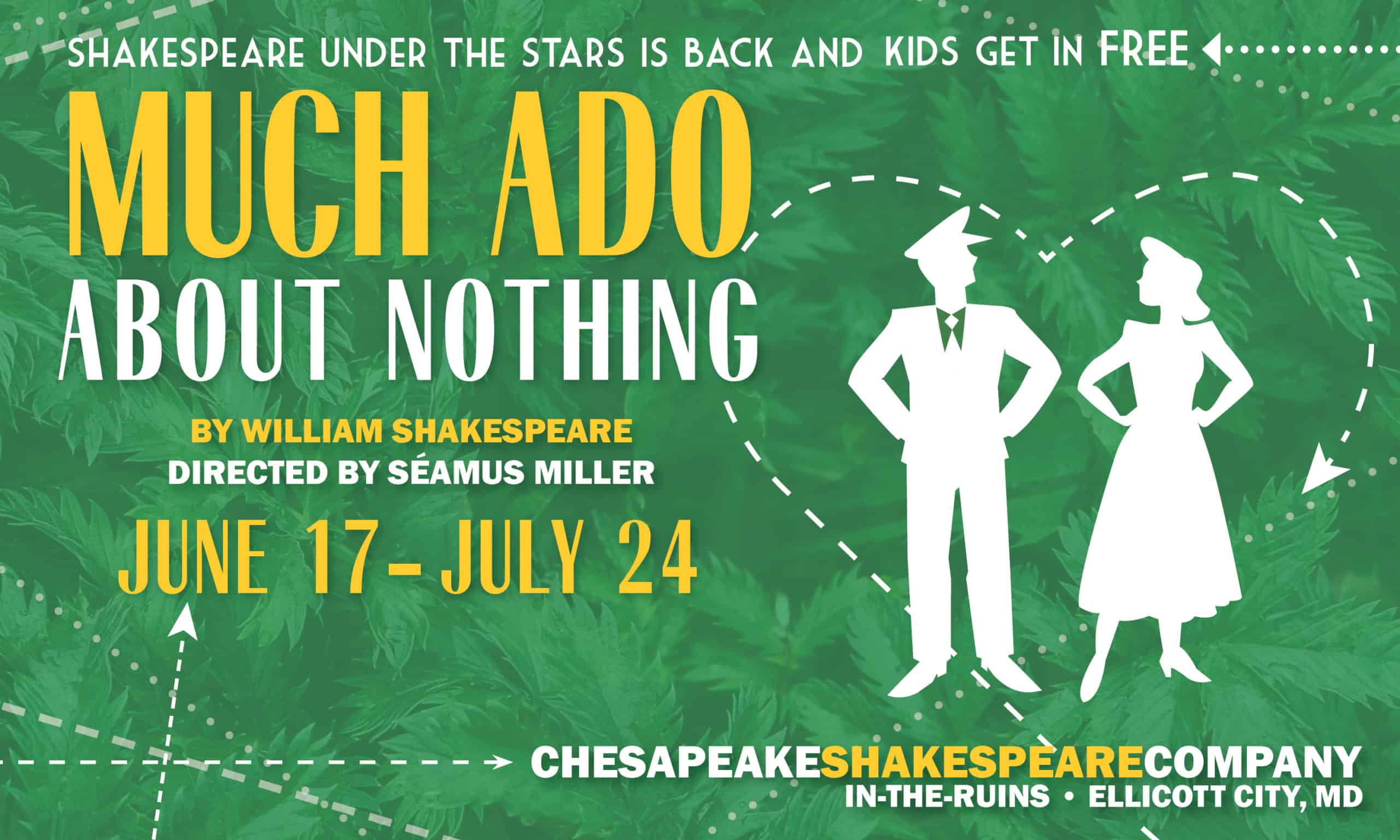 FOR IMMEDIATE RELEASE
PRESS CONTACTS:
CSC Marketing Manager
Brandon W Vernon, 410-244-8571 x116
vernon@chesapeakeshakespeare.com
Much Ado About Nothing Publicist
Cassandra Miller, 617-851-6128
cassandra.mil@gmail.com
CHESAPEAKE SHAKESPEARE COMPANY PRESENTS
MUCH ADO ABOUT NOTHING
June 15-July 24 at PFI Historic Park in Ellicott City
Baltimore, Md. (May 18, 2022) – Chesapeake Shakespeare Company (CSC) announces the beloved Shakespeare romantic comedy Much Ado About Nothing as its 2022 outdoor show at Patapsco Female Institute (PFI) Historic Park in Ellicott City, with performances June 15 through July 24, 2022. Previews are June 15 and 16 and press night is June 17. This is the 19th season of Chesapeake Shakespeare Company In-The-Ruins, held at the enchanting PFI Historic Park, home to 19th century-era ruins overlooking Historic Ellicott city. 
"Much Ado About Nothing is one of Shakespeare's most popular comedies and Beatrice and Benedick are everyone's favorite romantic couple," said CSC's Producing Executive Director Lesley Malin. "It is the perfect pairing with the beautiful PFI Ruins which delight audiences summer after summer. Settled under the trees, with a picnic and a bottle of wine, you will find no more magical place to watch Shakespeare."
CSC's production is set in late 1944 at a villa in the French countryside after World War II and the liberation of Western Europe; Shakespeare's characters become Allied soldiers and French townspeople. The production will feature a live band and singing, including music by Edith Piaf, Woody Guthrie, and Jacques Brel, as well as Shakespeare's masterful wordplay, comedy, and mistaken identities.
"It's set in a time when everyone has just gone through something traumatic and is learning how to come together again and relate to one another again, which I'm certain our audiences will identify with after the last couple of years," said Much Ado About Nothing Director Séamus Miller, who most recently served as assistant director of CSC's well-received Henry V. "The whole community of characters in Much Ado teams up in support of the two couples and their troubles."
Much Ado About Nothing is a family-friendly show, and tickets are free for children 18 and younger (up to two free tickets per adult ticket purchased by reservation). Weekly Family Fundays with story-time explaining the plot of Much Ado About Nothing, face-painting, and crafts like mask making and coloring will start at 4:30 p.m. before each 6 p.m. Sunday performance.  Chesapeake Shakespeare In-The-Ruins has introduced over 10,000 children to Shakespeare through its Free Shakespeare For Kids program.
Visit https://www.chesapeakeshakespeare.com/shows-tickets/muchado for more information.
IMPORTANT HEALTH AND SAFETY INFORMATION
Chesapeake Shakespeare Company will continue to follow all Howard County and Maryland state regulations and restrictions, as well as health and safety guidelines issued by the Centers for Disease Control. Visit ChesapeakeShakespeare.com/know-before-you-go prior to purchasing tickets or attending a performance for the most up-to-date information on COVID-19 procedures and precautions being taken. Please note the following for Summer 2022 performances at PFI Historic Park:
Gates and ticket tent open 90 minutes prior to curtain.
There will be an intermission during the performance.
Walking distance is approximately 0.2 miles (comparable to other area outdoor venues like Merriweather Post Pavilion in Columbia or Wolf Trap in Virgina). There will be designated passenger drop off and pick up at the Ticket Tent.
Full production programs will be made available digitally. Printed cast lists will be available on site upon request.
All Chesapeake Shakespeare Company staff and artists have been vaccinated and boosted.
As has become a much-loved tradition, we welcome (and encourage) patrons to bring their own picnics (including wine and/or beer) and blankets to enhance the experience of the evening! Standard seating, family-style picnic tables, and date-night tables for two will be available.
PRODUCTION INFORMATION
Much Ado About Nothing
By William Shakespeare
Directed by Séamus Miller*
CAST LIST (in alphabetical order)
Dylan Arredondo - Benedick
Greta Boeringer - Friar/Sexton
Zach Brewster-Geisz - Verges
Casey Brogan - Watch 2/Swing
Jordan Brown - Claudio
Abigail Funk - Margaret
Anna DiGiovanni* - Beatrice
Emily Erickson - Madame Jeanne
Kate Forton* - Hero
Grace Friedman - Conrade
Jose Guzman* - Dogberry/Antonio
Will Kinna - Balthasar
Molly Moores* - Leonata
Ryan Tumulty - Don Pedro
Jabari Williams - Borachio
B'Jion Wright – Ursula
* CSC Company Member
CREATIVE TEAM
Séamus Miller - Director
Sarah Curnoles - Production Manager
Lauren Davis - Assistant Director
Maggie Urban - Stage Manager
Rebecca Kleeman - Assistant Stage Manager
Dan O'Brien - Set and Light Designer
Lynly Saunders - Costume Designer
David Crandall - Sound Designer
Ben Lambert - Vocal and Text Coach
Grace Srinivasan - Music Director
Shaquan Pearson - Intimacy Coordinator
Sarah Phillips - Props Designer
Lauren Engler – Choreographer
Hannah Brill - Wardrobe Supervisor
Mandy Benedix - Covid Safety Manager
Audrey Kawecki - Directing Intern
ABOUT THE PLAY
Beatrice and Benedick are made for one another, and everyone knows it … except for them. It will take an entire village of meddlers, gossips, and fools to help them win this "merry war" of misdeeds, misunderstandings, and mistaken identities. Enjoy Shakespeare's best-loved romantic comedy under the stars at PFI Historic Park.
WHERE
The Patapsco Female Institute Historic Park is located at 3655 Church Road, Ellicott City, MD 21043. Parking for the Patapsco Female Institute Historic Park is located at 3691 Sarah's Lane, Ellicott City, MD, 21043. Gates and ticket tent will open 90 minutes prior to curtain.
In order to safeguard the health and safety of our audience, artists, and staff, shuttle service will not be offered from the parking lot to the Ruins this year. Passenger drop off will still be available at the ticket tent. For more detailed information about directions, parking, and public transportation, visit our website.
DATES AND TIMES (June 15-July 24, 2022)

Wednesday, June 15th at 8:00 p.m. – Preview
Thursday, June 16th at 8:00 p.m. – Preview
Friday, June 17th at 8:00 p.m. – Opening Night
Saturday, June 18th at 8:00 p.m.
Sunday, 19th at 6:00 p.m. – Family Funday
Friday, June 24th at 8:00 p.m.
Saturday, June 25th at 8:00 p.m.
Sunday, June 26th at 6:00 p.m. – Family Funday
Friday, July 1st at 8:00 p.m.
Saturday, July 2nd at 8:00 p.m.
Sunday, July 3rd at 6:00 p.m. – Family Funday
Thursday, July 7th at 7:30 p.m.
Friday, July 8th at 8:00 p.m.
Saturday, July 9th at 8:00 p.m.
Sunday, July 10th at 6:00 p.m. – Family Funday
Thursday, July 14th at 7:30 p.m.
Friday, July 15th at 8:00 p.m.
Saturday, July 16th at 8:00 p.m.
Sunday, July 17th at 6:00 p.m. – Family Funday
Thursday, July 21st at 7:30 p.m.
Friday, July 22nd at 8:00 p.m.
Saturday, July 23rd at 8:00 p.m.
Sunday, July 24th at 6:00 p.m. – Family Funday
TICKETS
We highly recommend purchasing tickets in advance. Tickets can be purchased by calling 410-244-8570, ordering online at ChesapeakeShakespeare.com, or visiting the Baltimore Box Office in person. Tickets range from $24 to $48, with discounts available for groups of ten or more, active-duty military, seniors, and anyone age 25 or younger. Tickets for preview performances are just $22 each for all ages, no discounts are available. For more information or to purchase tickets, click here.
ABOUT CHESAPEAKE SHAKESPEARE COMPANY
Founded in 2002, Chesapeake Shakespeare Company is the leading classical theatre company in Maryland, offering vibrant performances that blow the dust off Shakespeare and delight its patrons. One of the six largest theatre companies in the state, CSC serves diverse audiences with funny, moving, rousing mainstage seasons, a vigorous education program that serves over 16,000 students annually in both theatre and the classroom, and a growing community engagement effort including a model Veterans program and the Black Classical Acting Ensemble. The Chesapeake Shakespeare Company has three venues. Its indoor performances are presented at the stunning, award-winning 266-seat Chesapeake Shakespeare Company Theatre, with a thrust stage uniquely designed for CSC performances. Next door to the theatre and linked is its administrative offices and The Studio at the Chesapeake Shakespeare Company, which serves as a classroom, rehearsal space, and alternative performance area. CSC's summertime outdoor home is in nearby Ellicott City and features performances and education programming at the PFI Historic Park, a gorgeous spot for picnicking and watching Shakespeare under the stars.