The OLIVE BRANCH AND LAUREL CROWN ENSEMBLE exists within the ranks of the Chesapeake Shakespeare Company Resident Artists. It was born from classes sponsored by and in partnership with VetArts Connect, finding ways for health and wellness through the arts. The Ensemble will accept new members upon completion of the CSC Vets Acting Class.
Interested in learning more about this program? Contact The Studio staff.
studio@chesapeakeshakespeare.com, or call 410.244.8571, ext. 114.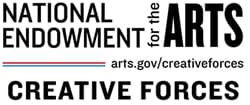 Creative Forces®: NEA Military Healing Arts Network is an initiative of the National Endowment for the Arts in partnership with the U.S. Departments of Defense and Veterans Affairs and the state and local arts agencies. The initiative seeks to improve the health, wellness, and quality of life for military and veteran populations exposed to trauma, as well as their families and caregivers. Administrative support for the initiative is provided by Americans for the Arts and the Henry M. Jackson Foundation for the Advancement of Military Medicine, inc.