Chesapeake Shakespeare Company Opens New Season In February With American Classic A Raisin In The Sun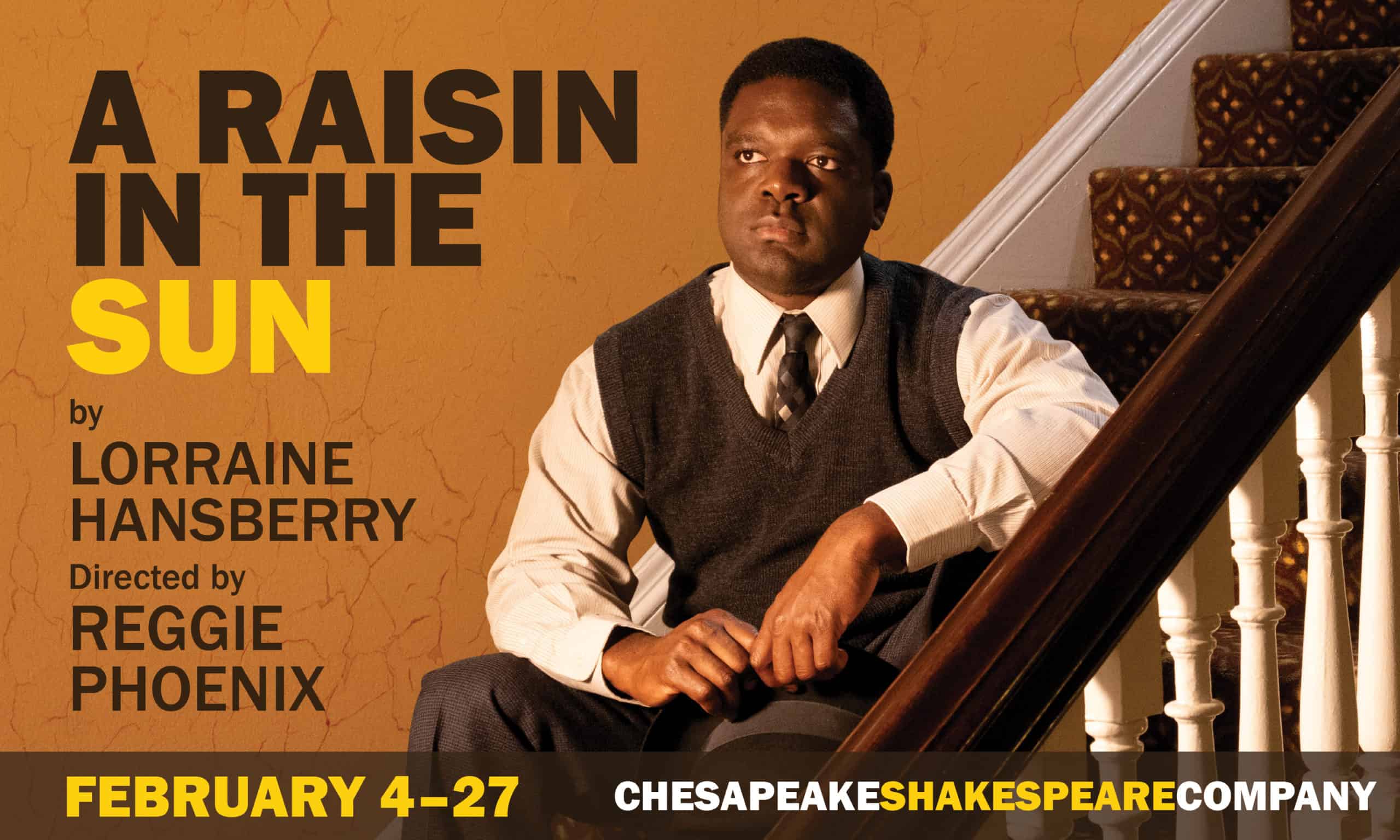 CHESAPEAKE SHAKESPEARE COMPANY OPENS 
NEW SEASON IN FEBRUARY WITH AMERICAN CLASSIC 
A RAISIN IN THE SUN  
Baltimore, Md. (Jan. 06, 2022) – Chesapeake Shakespeare Company launches its shortened 19th Season in the new year with Lorraine Hansberry's A Raisin in the Sun, directed by Reggie Phoenix. A Raisin in the Sun runs from Feb. 4-27, 2022, with previews Feb. 2-3, and press night on the 4th. Student Matinee performances will also be offered on Feb. 8, 10, 16, and 17.
Though A Raisin in the Sun is not CSC's first foray into presenting works from the past century on stage, it will be the company premiere of the play that "changed American theater forever" (The New York Times). Director Reggie Phoenix, Associate Professor of Theatre at Morgan State University, says "A play only becomes a "classic" when generations of theater goers deem it so—when over many changing eras it remains vital to the current time in which it which exists, and when its message continues to be relevant enough that people flock to it year after year. Now, more than ever, A Raisin in the Sun's message reverberates with such withering power and timeliness, that it could have been written today. I'm thrilled to be bringing this vital piece of American theatre to the stage of the Chesapeake Shakespeare Company."
Lorraine Hansberry's masterpiece tells the story of the Younger family, who yearn for a better life outside the confines of their tenement on Chicago's south side. When a means of escape presents itself in the form of a life insurance check, the family members realize that the "American Dream" appears to mean different things to each of them. A Raisin in the Sun premiered on Broadway in 1959, and was one of, if not the, first plays to deal head-on with issues of racism and its ripple effect on gentrification, assimilation, and housing discrimination. 
Chesapeake Shakespeare Company's own Gerrad Alex Taylor, who serves as Associate Artistic Director returns to the stage as Younger family patriarch, Walter Lee, and he recognizes how vital this work is, both for the company, and himself, as an artist:
"As classical theatres across the world continue to explore and expand the inclusivity of narratives showcased on their stages, I think that there is no better time to bring this powerfully important work to CSC audiences. In our continued effort to serve the state of Maryland, as its leading producer of classical theatre, we cannot forget the canon of classic dramatic literature from the perspectives of communities we directly serve, or we run the risk of serving no one." 
He went on to say "I am excited to step into the shoes of Walter Lee; standing in the shadows of giants that have brought this role to the forefront of our imagination in the 20th century. As one of the artistic leaders of the company, I am equally excited to honor the lives of Lorraine Hansberry, Langston Hughes, Sidney Poitier, and all the trailblazers that shifted the narrative of which voices were deemed valuable in the American theatre and that canonized the sacredness of their lived experiences." 
Taylor will star alongside popular longtime CSC Company Member Tamieka Chavis, as "Mama" Lena Younger. The cast is rounded out by Zach Brewster-Geisz, Lloyd Ekpe, Dominic Gladden, Alex Jones, Dawn Thomas Reidy, Quincy Vicks, and Niyah Worthy. 
Raisin also marks the return of Student Matinees to the CSC mainstage. Prior to the pandemic, over 14,000 Maryland middle and high school students attended student matinees at CSC annually. There will be four special presentations of the show for student audiences this winter (see dates below).
 
Please note, based on current union rules, no food or drink will be permitted inside the theatre. Proof of vaccination or a negative PCR COVID-19 test within 72 hours of your performance time must be shown prior to entering the theatre. For children under 12, proof of one dose of an FDA approved vaccine 14 days before the performance date will also be accepted. Masks must be worn at all times while inside the theatre. For more information, visit www.chesapeareshakespeare.com or call the box office at 410-244-8570.  
PRODUCTION INFORMATION  
A RAISIN IN THE SUN 
By Lorraine Hansberry 
Directed by Reggie Phoenix 
"A Raisin in the Sun" is presented by arrangement with Concord Theatricals on behalf of Samuel French, Inc. www.concordtheatricals.com 
ABOUT THE PLAY:
The Youngers yearn for a better life outside the confines of their tenement on Chicago's south side. When a means of escape presents itself, they each come to realize the "American Dream" can mean different things to different people in the exact same family. So, whose dreams come true… and whose get deferred? Lorraine Hansberry's 1959 masterpiece, A Raisin in the Sun, is not only a groundbreaking portrait of the Black experience in America, but a timeless exploration of how far a family will (or won't) go to stay together.
CAST LIST (in alphabetical order)
Zach Brewster-Geisz – Karl Lindner 
Tamieka Chavis**+ – Lena Younger (Mama) 
Lloyd Ekpe – Joseph Asagai  
Dominic Gladden – Bobo/Moving Man 
Alex Jones – Travis Younger 
Dawn Thomas Reidy – Ruth Younger 
Gerrad Alex Taylor**+ – Walter Lee Younger  
Quincy Vicks**– George Murchison/Moving Man  
Niyah Worthy – Beneatha Younger 
CREATIVE TEAM
Lesley Mailin** - Executive Director
Reggie Phoenix - Director
Sarah Curnoles** - Production Manager
Alexis E. Davis** - Stage Manager
Majenta Thomas - Assistant Stage Manager
Dan O'Brien** --Technical Director
Sharlene Clinton - Costume Designer
Matthew Datcher - Sound Designer
Timothy Jones - Scenic Designer
James Jackson - Lighting Designer
Jess Rassp - Props Designer
Eva Hill - Covid Safety Manager and Wardrobe Supervisor
**CSC Company Member 
+ Member of Actors Equity 
WHERE:
Chesapeake Shakespeare Company is located at 7 South Calvert Street, Baltimore, MD 21202. The theatre is located two blocks north of the Inner Harbor. Parking is available for the discounted rate of $5 at the Arrow Parking covered lot on 204 East Lombard Street. The theatre is also accessible using the FREE Charm City Circulator and is located on the Purple Route. For more detailed information about directions, parking, and public transportation, click here. 
DATES AND TIMES
Wednesday, February 2, 2022, at 8:00pm PREVIEW  
Thursday, February 3, 2022, at 8:00pm PREVIEW  
Friday, February 4, 2022, at 8:00pm OPENING NIGHT   
Saturday, February 5, 2022, at 8:00pm  
Sunday, February 6, 2022, at 2:00pm  
Tuesday, February 8, 2022, at 10:00am STUDENT MATINEE
Thursday, February 10, 2022, at 10:00am STUDENT MATINEE
Friday, February 11, 2022, at 8:00pm  
Saturday, February 12, 2022, at 8:00pm  
Sunday, February 13, 2022, at 2:00pm  
Wednesday, February 16, 2022, at 10:00am STUDENT MATINEE 
Friday, February 18, 2022, at 8:00pm  
Saturday, February 19, 2022, at 8:00pm  
Sunday, February 20, 2022, at 2:00pm  
Thursday, February 24, 2022, at 8:00pm   
Friday, February 25, 2022, at 8:00pm  
Saturday, February 26, 2022, at 2:00pm  
Saturday, February 26, 2022, at 8:00pm  
Sunday, February 27, 2022, at 2:00pm CLOSING  
TICKETS:  
Single tickets go on sale today, with prices range from $38 - $58 for adults, and tickets for those under 25 range from $19 - $29. Subscriptions are also available and save patrons 20% off individual ticket prices. Subscriptions and tickets can be purchased by calling 410-244-8570, ordering online at ChesapeakeShakespeare.com, or visiting the Box Office in person. Discounts are available for subscriptions, groups of ten or more, active-duty military, seniors, and anyone age 25 or younger. For more information or to purchase tickets, click here.  
ABOUT CHESAPEAKE SHAKESPEARE COMPANY:  
Founded in 2002, Chesapeake Shakespeare Company is the leading classical theatre company in Maryland, offering vibrant performances that blow the dust off Shakespeare and delight its patrons. One of the six largest theatre companies in the state, CSC serves diverse audiences with funny, moving, rousing mainstage seasons, a vigorous education program that serves over 16,000 students annually in both theatre and the classroom, and a growing community engagement effort including a model Veterans program and the Black Classical Acting Ensemble. The Chesapeake Shakespeare Company has three venues. Its indoor performances are presented at the stunning, award-winning 266-seat Chesapeake Shakespeare Company Theatre, with a thrust stage uniquely designed for CSC performances. Next door to the theatre and linked are its administrative offices and The Studio at the Chesapeake Shakespeare Company, which serves as a classroom, rehearsal space, and alternative performance area. CSC's summertime outdoor home is in nearby Ellicott City and features performances and education programming at the PFI Historic Park, a gorgeous spot for picnicking and watching Shakespeare under the stars.