CSC ANNOUNCES NEW STATEWIDE PROGRAM/INITIATIVE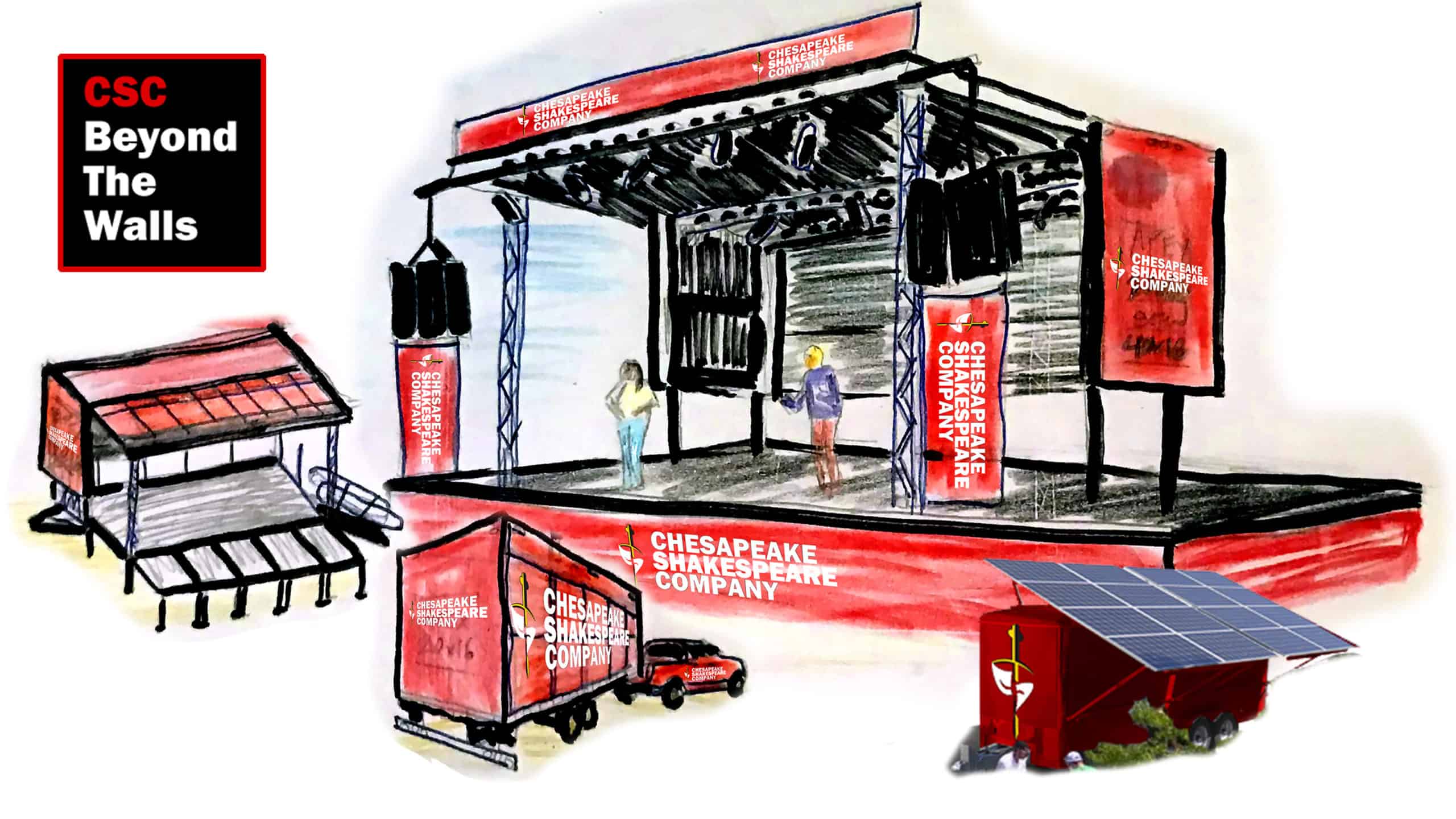 FOR IMMEDIATE RELEASE
PRESS CONTACTS:
National Media Contact:
Sam Rudy, (917) 864-1503
samrudy4@gmail.com
Maryland Media Contact:
Jalen Lee, 410-244-8571 x119
lee@chesapeakeshakespeare.com
CHESAPEAKE SHAKESPEARE COMPANY
Announces new statewide program/initiative
'THE SHAKESPEARE WAGON' TO VISIT BALTIMORE NEIGHBORHOODS
AND COUNTIES IN MARYLAND
Baltimore's CHESAPEAKE SHAKESPEARE COMPANY – one of the fastest-growing classical theater companies in the U.S. and the leading company of its kind in Maryland – announces an unprecedented program, BEYOND THE WALLS, which will bring touring Shakespeare productions to every corner of the state BY 2027, according to Lesley Malin, CSC's Producing Executive Director.
The official announcement of BEYOND THE WALLS will be made at the company's first-ever period-dress public celebration, A CAPULET COSTUME BALL fundraiser on November 5th. The unveiling of this essential new statewide initiative is a highlight of CSC's 20th anniversary season in 2022-23, currently underway with an acclaimed production of Shakespeare's TWELFTH NIGHT, running on stage at CSC's mainstage (7 Calvert St., Baltimore) through October 23. From December 2 to 23, the company will debut an all-new adaptation of its legendary holiday offering, A CHRISTMAS CAROL.
BEYOND THE WALLS is expected to make its formal debut – following a fundraising campaign and the acquisition of a trailer nicknamed "The Shakespeare Wagon" that converts to a stage for touring purposes – with a pilot program in 2023. The Wagon will be scheduled for multi-week sit-downs in locations throughout Maryland, providing opportunities for performance, education, community engagement and discourse, according to CSC's Founding Artistic Director Ian Gallanar. Those residencies in local communities in every region of Maryland – and in the many distinct neighborhoods that make Baltimore unique -- will culminate with FREE public performances of Shakespeare.
Chesapeake Shakespeare Company – which is the sixth largest theater company in Maryland, and the third largest in Baltimore, having launched in 2002 – has created
BEYOND THE WALLS with the intention to bring Marylanders together with one of the seemingly few things remaining upon which all agree: Shakespeare's capacity to unite, not divide.
"We want to give people across the city and across the state the opportunity to see Shakespeare in their own neighborhoods or communities alongside their neighbors, without the barriers of ticket costs or transportation," comments Ms. Malin. "We believe that making it the same experience for all folks across the state and city is a way to foster commonality, democracy and empathy in a time when so many people feel alienated from each other."
Residents from Havre de Grace to Chevy Chase to Catonsville, Frederick, Towson and Hagerstown, among others, can expect to participate in and experience rich, professional stagings of such Shakespeare classic comedies and dramas as Much Ado About Nothing, Romeo and Juliet, and Comedy of Errors, according to Mr. Gallanar.
All programs – performances, workshops, and collaborations with local artists in those respective towns – will be free to the public. BEYOND THE WALLS will also hope eventually to provide jobs training for both seasonal and permanent job skills and to offer opportunities for local bookmobiles and mobile medical clinics to be part of each residency.
"I'm looking forward to expanding our reach and the number of people we serve. We hope to be serving neighborhoods in Baltimore from Patterson Park to Druid Hill Park and from Cherry Hill to Bolton Hill as well as eventually serving all 24 counties in Maryland. Not everyone knows our theater now, but we want to serve every Marylander we possibly can," notes Mr. Gallanar.
With its commitment to increasing access to the arts throughout Maryland, Chesapeake Shakespeare Company stands by its mission statement: "We are storytellers and community builders because we know that great communities are built on the shared values that come from shared stories. We believe that in a divisive time, safe communal shared experience is as vital as air or water."
BEYOND THE WALLS is launching its fundraising and planning efforts with $300,000 in support from the State of Maryland. BEYOND THE WALLS expects to add to its touring schedule over the next five years, intending to operate at ultimate capacity with TWO Shakespeare Wagons that will roll into towns and cities throughout the summer months.
Upcoming productions for Chesapeake Shakespeare Company's 2022-2023 season include: a new adaptation of their Charm City-themed A Christmas Carol, reimagined by Company Member and historical writer Laura Rocklyn and directed by Shanara Gabrielle (December 2 - 23, 2022); the long-anticipated return of The Complete Works of William Shakespeare (Abridged)-- will be the first production of the revised script in the region. Founding Artistic Director Ian Gallanar will direct (February 10 - March 23, 2023);
Hamlet which returns to CSC for the first time in over a decade, and the first time on the company's downtown Baltimore stage—featuring nationally-acclaimed director Eleanor Holdridge and longtime Company Member Vince Eisenson in the title role (April 28 - May 21, 2023); finally closing the 20th Anniversary Season with a presentation of Macbeth in the company's popular summer slot. Company Member Lauren Davis directs CSC's Black Classical Acting Ensemble in CSC's original outdoor home, the Patapsco Female Institute Historic Park in Ellicott City (June 16 - July 23, 2023).
Chesapeake Shakespeare Company is Maryland's leading classical theater company, founded in 2002, now with a 266-seat award-winning theater housed in an old Downtown Baltimore bank building at the corner of Calvert and Redwood. CSC presents a full season annually of first-rate, professional productions of Shakespeare plays, along with more recent classics such as RAISIN IN THE SUN. Equity and inclusion in employment, education, and community outreach has always been a focus of the company's mission.