20th Anniversary Celebration: Sword Fighting, Interactive Theatre, and Shakespeare-era Costumes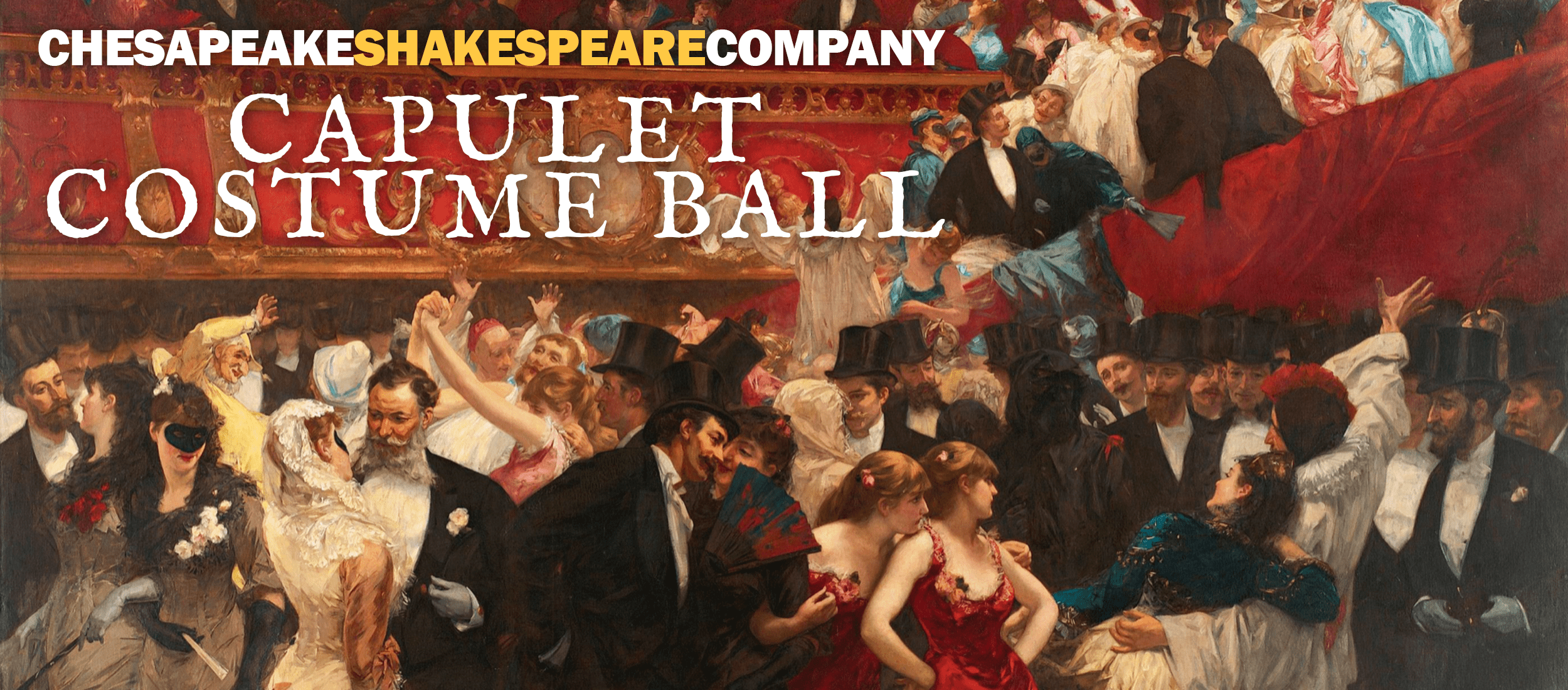 MEDIA ADVISORY
Baltimore theatre company's 20th anniversary gala to include sword fighting, interactive script reading, live demonstrations, and several notable guests – in costume.
This first-ever, one-of-a-kind Shakespearience in Baltimore will also feature the announcement of a new Chesapeake Shakespeare Company program of interest to residents in every county in Maryland.
DATE
Saturday, November 5
TIME
7 pm – 10 pm
LOCATION
Chesapeake Shakespeare Company, 7 S. Calvert St, Baltimore, MD, 21202
DETAILS
While many theatres continue to recover from pandemic-related setbacks, Chesapeake Shakespeare Company (CSC) is grateful to celebrate 20 years on stage with a night of merriment and discovery. The Capulet Costume Ball Gala includes a complete Shakespearience. The event begins at 7 pm on Saturday, November 5, at the company's historic Downtown Baltimore theatre. Guests will be greeted with a red carpet accompanied by live music. Attendees will have the opportunity to enjoy a mix of interactive, theatrical experiences that give a glimpse into what it takes to put on CSC's groundbreaking productions. Live music, demonstration, and stage combat instruction will all be available for guest enjoyment.
List of Experiences:
Backstage Tour – A chance to step into Juliet's shoes and view the theatre from our giant tower.
Costume Contest – Attendees are encouraged to come in costume. Judges will select finalists that guests will vote on later in the evening during our special program.
A Day in the Life of an Actor [Looping Video] – A dive behind the scenes as one of our actors prepares for a performance and a look at a rehearsal script.
Live Entertainment and Music – Stage fighting, pop-up singers, and a string band.
Read a scene with Romeo or Juliet – Romeo and Juliet offer guests a chance to run lines with them.
Photo Booth – A photo booth company provides digital photos and an instant print for guests.
Strolling Artists – Actors, in character, interact with guests throughout the evening.
Special Program:
Company members and staff take a moment to celebrate CSC's past and future.
Baltimore City Comptroller and CSC Board Member Bill Henry presents citations on behalf of Mayor Brandon Scott.
Video presentation documenting the past 20 years of the company.
CSC company members Lauren Davis and Gerrad Taylor delight guests with a presentation of the famous balcony scene from Romeo and Juliet.
***Special Announcement*** from Producing Executive Director Lesley Malin and Founding Artistic Director Ian Gallanar. Guests will have the first opportunity to hear about a bold, innovative project CSC is preparing to launch.
Presentation of a swordfight between characters from Romeo and Juliet.
20th Birthday Toast led by CSC Board Chair Emily Rockefeller.
In Attendance and Available for Comment
Lesley Malin, CSC Producing Executive Director
Ian Gallanar, CSC Artistic Director
Emily Rockefeller, CSC Board of Trustees Chair
About the 20th Anniversary Season
CSC recently wrapped up Twelfth Night, the opening production for the company's 20th Anniversary Season. The company's Black Classical Acting Ensemble (BCAE) recently closed out its fall program, an abridged presentation of Macbeth presented to 2,300 local students from the region.
Presently, CSC is in rehearsals for its annual production of A Christmas Carol. For 2022, the company presents a brand-new adaptation by long-time company member Laura Rocklyn. A Christmas Carol runs Nov. 30 - Dec. 23.
Future CSC productions are to include a new script of The Complete Works of William Shakespeare (Abridged) and Hamlet. CSC will present its annual production of Romeo and Juliet for student audiences in spring 2023 and close out the 20th Anniversary Season with an outdoor presentation of Macbeth for all audiences in the company's beloved outdoor space in Ellicott City.
About Chesapeake Shakespeare Company
Chesapeake Shakespeare Company brings great classic theatre to Baltimore, Howard County, the state of Maryland, and beyond. The company offers performances of Shakespeare and other plays of classic stature that are unforgettable and create experiences that are engaging and exciting, challenging and innovative. Actors perform without curtains and without barriers in settings that are both beautiful and informal. As a dynamic educational resource, CSC introduces Shakespeare to schoolchildren with vigorous, relevant programming. Chesapeake Shakespeare Company brings delight and enlightenment to audiences new and old. Patrons, students, and neighbors are invited to become part of the creative collaboration that generates powerful, magical theatre and a more purposeful, more engaged, and more connected community.
For more information about the Capulet Costume Ball Gala and Chesapeake Shakespeare Company visit https://www.chesapeakeshakespeare.com/support/2022gala/