CSC Opens 20th Anniversary Season with Twelfth Night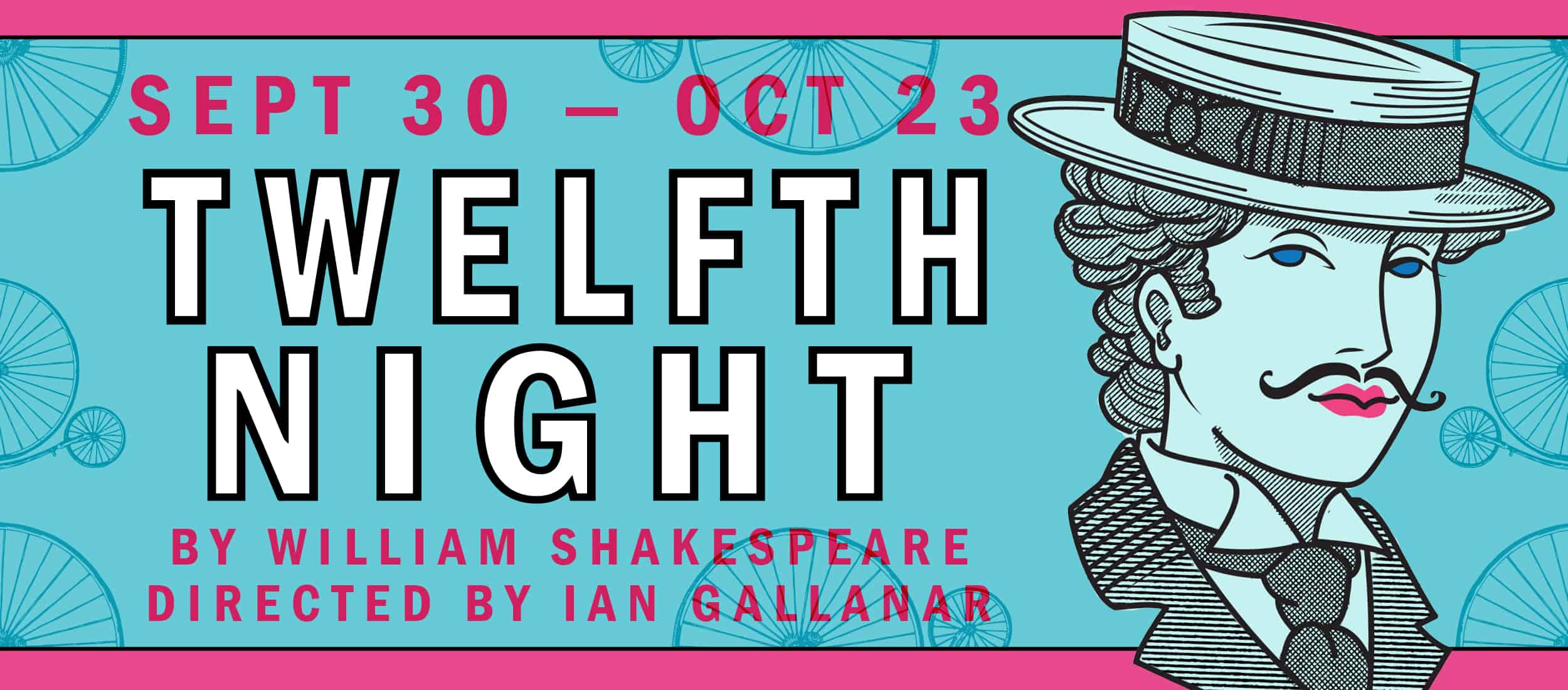 FOR IMMEDIATE RELEASE
PRESS CONTACTS:
CSC Marketing Manager
Brandon W Vernon, 410-244-8571 x116
vernon@chesapeakeshakespeare.com
CHESAPEAKE SHAKESPEARE COMPANY OPENS
20TH ANNIVERSARY SEASON WITH
TWELFTH NIGHT
Baltimore, Md. (Aug. 23, 2022) – Chesapeake Shakespeare Company kicks off a year-long celebration of their 20th anniversary by restaging its very first production as a professional troupe, William Shakespeare's Twelfth Night. Twelfth Night runs from Sept. 30-Oct. 23, 2022, with previews Sept. 28-29, and press night on the 30th.
In 2002, Chesapeake Shakespeare Company (CSC) established itself with a single production of Shakespeare's popular romantic comedy at a small black box theatre in Ellicott City, MD. Twenty seasons later, the production's original director, Founding Artistic Director Ian Gallanar, will pay homage to the company's inaugural presentation in their award-winning, theatre in Downtown Baltimore.
"The show was only seen by 100 people," Gallanar remembers, but goes on to add, "It started as an idea that we could connect a new audience to Shakespeare. I couldn't conceive, when we started, that we would last to a twentieth birthday. I'm so excited to revisit this show and watch it usher in the next twenty years."
"I am delighted to be opening our 20th anniversary season with Twelfth Night, which has such meaning for the Chesapeake Shakespeare Company. It's a sentimental choice, but it is also perhaps Shakespeare's most perfect comedy. I know our audiences will have a wonderful time," adds Producing Executive Director, Lesley Malin, who performed in that first 2002 production.
Though Twelfth Night presents powerful themes surrounding love, power, and gender roles, Shakespeare employs outrageous comedic tropes to play them out, including mistaken identity, cross-dressing, secret crushes, pranks, and even separated twins.
After being shipwrecked in a strange land, Viola disguises herself as a man (Cesario) for protection and is recruited by Duke Orsino to woo the Lady Olivia on his behalf. Olivia tumbles into love with "Cesario," but Viola has fallen in love with Orsino. All the while, members of Olivia's household are creating additional mayhem by hatching plots amongst themselves. When Viola's twin brother Sebastian turns up alive, the confusion intensifies and escalates into a series of increasingly chaotic, but ultimately satisfying, resolutions.
Shakespeare, himself, addressed the dizzying plot in the text, with the famous line, "If this were play'd upon a stage now, I could condemn it as an improbable fiction." (Act III, Scene 4)
Featuring Lizzi Albert (Viola), Ian Charles (Sebastian), Elana Michelle (Olivia), and Quincy Vicks (Orsino) as the beguiled—and beguiling—romantic leads, the production, set in an early 1900s seaside resort, assembles a versatile cast of CSC company members and newcomers. The ensemble also includes seasoned comedic performers, like George Michael Harris (Feste) of Baltimore Improv Group and Gregory Burgess (Sir Toby) who are well-versed in fast-paced farce. The production will also use the original music from the original production, written by current CSC Technical Director Dan O'Brien, who played Feste back in 2002.
Please note, based on current union rules, all patrons must be masked at all times while in the theatre, except while eating or drinking. For more information, visit www.ChesapeakeShakespeareCompany.com or call the box office at 410.244.8570
PRODUCTION INFORMATION
TWELFTH NIGHT
By William Shakespeare
Directed by Ian Gallanar
ABOUT THE PLAY:
Full of charm, mischief, and music, Twelfth Night features an unusual love triangle, ridiculous pranks, and a sparkling cast of beloved characters. We kick off our year-long 20th anniversary celebration by revisiting our inaugural presentation of Twelfth Night with the original director, Founding Artistic Director Ian Gallanar, at the helm. The production, set in a 1900s seaside resort, will feature a cast of many CSC company favorites, including: Gregory Burgess, Ron Heneghan, and Lizzi Albert as Viola.
CAST LIST (in alphabetical order)
Lizzi Albert** – Viola
Tyrel Brown – Valentine/officer
Gregory Burgess** – Sir Toby
Ian Charles** – Sebastian
Kathryne Daniels** – Maria
Jose Guzman** – Sir Andrew
David Hanauer– Sea Captain
George Michael Harris – Feste
Oz Heiligman – Antonio
Ron Heneghan+ – Malvolio
Jade Jones – Lady in Waiting
Laura Malkus – Fabian
Elana Michelle** – Olivia
Grant Scherini – Curio/officer
Quincy Vicks – Orsino
**CSC Company Member
+ Member of Actors Equity
CREATIVE TEAM:
Ian Gallanar – Director**
Lesley Malin - Producing Executive Director**
Sarah Curnoles - Production Manager**
Alexis E. Davis - Stage Manager**
Bernard Johnson - Assistant Director
Dan O'Brien - Technical Director**
Tim Jones - Set Designer
Kristina Lambdin - Costume Designer**
Grace Srinivasan - Music Director**
Jason Aufdem-Brinke - Lighting Designer
Kaydin Hamby - Sound Designer
Trey Wise - Props Designer
Emi Erickson – Vocal and Text Coach, Co-music Director
Lauren Engler - Choreographer
Eva Hill - Assistant Stage Manager
Hanna Brill – Wardrobe Supervisor
Jen Katz – Lighting Designer Assistant
Christopher Niebling – Fight and Intimacy Choreographer
**CSC Company Member
WHERE:
Chesapeake Shakespeare Company is located at 7 South Calvert Street, Baltimore, MD 21202. The theatre is located two blocks north of the Inner Harbor. Parking is available for the discounted rate of $5 at the Arrow Parking covered lot on 204 East Lombard Street. The theatre is also accessible using the FREE Charm City Circulator and is located on the Purple Route. For more detailed information about directions, parking, and public transportation, click here.
DATES AND TIMES:
Wednesday, September 28, 2022, at 8:00pm PREVIEW
Thursday, September 29, 2022, at 8:00pm PREVIEW
Friday, September 30, 2022, at 8:00pm OPENING NIGHT
Saturday, October 1, 2022, at 8:00pm
Sunday, October 2, 2022, at 2:00pm
Friday, October 7, 2022, at 8:00pm
Saturday, October 8, 2022, at 8:00pm
Sunday, October 9, 2022, at 2:00pm
Thursday, October 13, 2022, at 7:30am
Friday, October 14, 2022, at 8:00pm
Saturday, October 15, 2022, at 8:00pm
Sunday, October 16, 2022, at 2:00pm
Thursday, October 20, 2022, at 8:00pm
Friday, October 21, 2022, at 8:00pm
Saturday, October 22, 2022, at 2:00pm
Saturday, October 22, 2022, at 8:00pm
Sunday, October 23, 2022, at 2:00pm CLOSING
TICKETS:
Subscriptions and tickets can be purchased by calling 410-244-8570, ordering online at ChesapeakeShakespeare.com, or visiting the Box Office in person. Ticket prices range from $24-$69. Discounts are available for subscriptions, groups of ten or more, active-duty military, seniors, and anyone age 25 or younger. For more information or to purchase tickets, click here.
ABOUT CHESAPEAKE SHAKESPEARE COMPANY:
Founded in 2002, Chesapeake Shakespeare Company is the leading classical theatre company in Maryland, offering vibrant performances that blow the dust off Shakespeare and delight its patrons. One of the six largest theatre companies in the state, CSC serves diverse audiences with funny, moving, rousing mainstage seasons, a vigorous education program that serves over 16,000 students annually in both theatre and the classroom, and a growing community engagement effort including a model Veterans program and the Black Classical Acting Ensemble. The Chesapeake Shakespeare Company has three venues. Its indoor performances are presented at the stunning, award-winning
266-seat Chesapeake Shakespeare Company Theatre, with a thrust stage uniquely designed for CSC performances. Next door to the theatre and linked are its administrative offices and The Studio at the Chesapeake Shakespeare Company, which serves as a classroom, rehearsal space, and alternative performance area. CSC's summertime outdoor home is in nearby Ellicott City and features performances and education programming at the PFI Historic Park, a gorgeous spot for picnicking and watching Shakespeare under the stars.