Shakespeare-In-The-Ruins returns with Macbeth Presented by CSC's Black Classical Acting Ensemble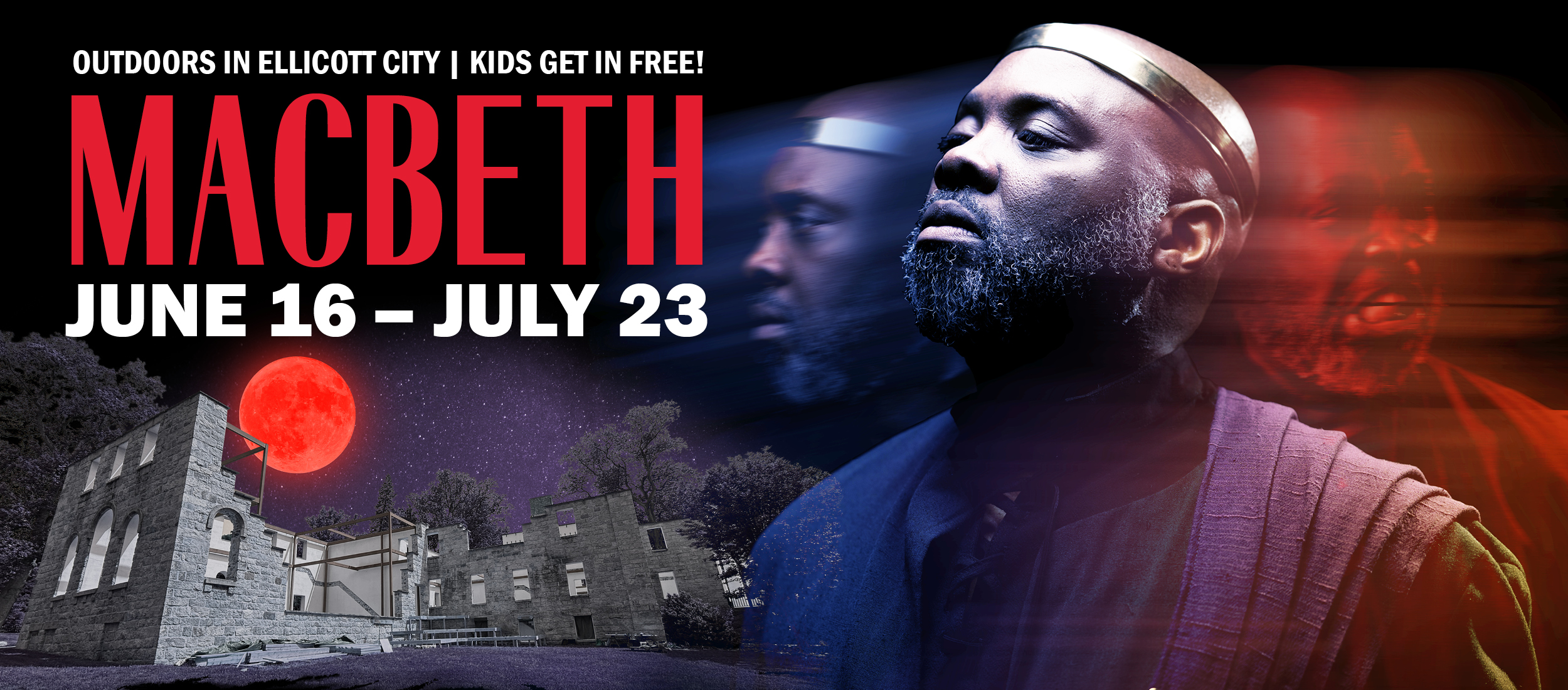 FOR IMMEDIATE RELEASE
PRESS CONTACTS:
CSC Communications Manager
Jalen Lee, 410-244-8571 x119
lee@chesapeakeshakespeare.com
Shakespeare-In-The-Ruins returns with
Macbeth
Presented by CSC's Black Classical Acting Ensemble
Baltimore (4.25.2023) - Chesapeake Shakespeare Company's (CSC) Black Classical Acting Ensemble (BCAE) will present Macbeth this summer in the historic ruins of the Patapsco Female Institute. A riveting tale of ambition and murder, Macbeth runs June 16 - July 23, with previews June 14-15. Press night is on June 16.
Returning home victorious from battle, Macbeth and his friend Banquo stumble upon three witches who prophesy that Macbeth will become king. Driven by their desire for power, Macbeth and his wife, Lady Macbeth, set out to make the prophecy come true by murdering King Duncan and seizing the throne for themselves.
After the murder, Macbeth descends further into mayhem and paranoia, becoming ruthless and obsessed. CSC Company Members DeJeanette Horne and Dawn Thomas Reidy play the deadly but devoted Macbeths.
Director Lauren Davis presents a world of beauty that quickly descends into chaos and disarray. "Before the loss of someone, there is a sense of lightness in the world. The world is full of potential. The future seems bright," says Davis. "But after loss, our worlds can become chaotic, dark, and increasingly unstable. As driven as Macbeth and Lady Macbeth are, they are not immune to this universal experience of loss."
CSC celebrates its 19th season outside amidst the captivating surroundings of the PFI Historic Park, where 19th century-era ruins offer a picturesque backdrop, perfect for picnics and summertime Shakespeare, overlooking the historic charm of Ellicott City.
Chesapeake Shakespeare Company In-The-Ruins has been called Ellicott City's "Signature Summertime Event." It offers an immersive experience, combining the magic of theatre with the beauty of the park's surroundings. The gates will open 90 minutes before showtime. After a .20-mile walk from the parking lot, patrons can arrive early, spread out a picnic blanket, and delight in the enchanting atmosphere of the historic ruins, beautiful plantings, and pre-show music. Those seeking a bite to eat can visit the on-site food truck, Tasty Treats & More. Guests are also permitted to bring their own food and beverages (including wine) from home.
Kids' tickets are free for CSC's summer productions. With each adult ticket purchased, up to two children (ages 18 and under) can join in on the excitement at no cost. Guests looking for a complete experience for the whole family can join us on Sundays for Family Fun Days. Starting at 4:30pm each Sunday, young guests can enjoy games and crafts designed to entertain children of all ages. Festivities also include a puppet show that brings the story of Macbeth to life, providing a delightful pre-show introduction to the play.
"We love coming back 'home' each summer to Ellicott City, where we performed exclusively for our first decade, and to the magic of this beautiful park. Adding to the allure of the setting, this summer production at the PFI is especially exciting because it will be the first mainstage production for the Black Classical Acting Ensemble," says Producing Executive Director Lesley Malin. "The PFI is full of so many happy memories for us, and we are thrilled that the Ensemble will soon become a part of this tradition."
The BCAE, established in 2021, serves as both an affinity space and incubator within Chesapeake Shakespeare Company, providing a platform for Black artists to discover and cultivate their genuine voices in the realm of classical drama. The ensemble is led by Gerrad Alex Taylor, Dawn Thomas Reidy, and Troy R. Jennings.
For more information about Macbeth, visit  www.chesapeakeshakespeare.com or call the box office at 410-244-8570. Press night is Friday, June 16. Tickets are $24-$69.
PRODUCTION INFORMATION
Macbeth
By William Shakespeare
Directed by Lauren Davis
Presented by CSC's Black Classical Acting Ensemble
CAST LIST  (in alphabetical order)
Keri Anderson - Witch/Murderer/Gentlewoman
Greg Burgess* - Duncan/Siward/Scottish Lord
Lloyd Ekpe+ - Macduff
Christen Gross - Donalbain/Young Siward/Apparition/ Scottish Lord
DeJeanette Horne* - Macbeth
Lauren Erica Jackson+ - Banquo/Lady Macduff/Lennox/English Doctor
Shaquan Pearson+ - Malcolm/Apparition
Jasmine Proctor - Ross/Apparition
Jordan Stanford - Witch/Murderer/Seyton/Old Man
Dawn Thomas Reidy*+ - Lady Macbeth/Hecate
Mecca Verdell+ - Witch/Murderer/Porter/Soldier
Jabari Williams - Fleance/Macduff's son/Doctor/Scottish Lord
CREATIVE TEAM
Lauren Davis*+ - Director
Sarah Curnoles* - Production Manager
Lauren Engler* - Production Stage Manager
Dan O'Brien* - Technical Director/Set Designer/Lighting Designer
Kristina Lambdin* - Costume Designer
Matthew Datcher - Sound Designer
Sierra Ho - Props Artisan
Gerrad Alex Taylor*+ - Fight Choreographer
Mari Andrea Travis - Movement Choreographer
Grace Srinivasan* - Music Director
Sierra Young - Intimacy Director
Ben Lambert - Assistant Director
Kris Disbastiani- Assistant Stage Manager
Hannah Brill - Wardrobe Supervisor
Mandy Benedix* - COVID Safety Manager
Pam Forton* - Senior House Manager
Avelina Rivezzo-Weber - Directing Intern
Maria Wraback - Stage Management Intern
* Notes a Chesapeake Shakespeare Company Member
+ Notes a member of the Black Classical Acting Ensemble
WHERE
The Patapsco Female Institute Historic Park is located at 3655 Church Road, Ellicott City, MD 21043. Parking for the Patapsco Female Institute Historic Park is located at 3691 Sarah's Lane, Ellicott City, MD, 21043. Gates and ticket tent will open 90 minutes prior to curtain.
DATES AND TIMES
Friday, June 16 at 8:00pm - Opening Night & Press Night
Saturday, June 17 at 8:00pm
Sunday,  June 18 6:00pm – Family Fun Day
Friday, June 23 at 8:00pm
Saturday, June 24 at 8:00pm
Sunday,  June 25 6:00pm – Family Fun Day
Friday, June 30 at 8:00pm
Saturday, July 1 at 8:00pm
Sunday,  July 2 6:00pm – Family Fun Day
Thursday, July 6 at 7:30pm
Friday,  July 7 at 8:00pm
Saturday, July 8 at 8:00pm
Sunday,  July 9 at 6:00pm – Family Fun Day
Thursday, July 13 at 7:30pm
Friday,  July 14 at 8:00pm
Saturday, July 15 at 8:00pm
Sunday,  July 16 at 6:00pm – Family Fun Day
Thursday, July 20 at 7:30pm
Friday,  July 21 at 8:00pm
Saturday, July 22 at 8:00pm
Sunday,  July 23 at 6:00pm
TICKETS
Adult tickets start at $50, tickets for youth 25 and under start at $25, and preview tickets are $24. Kids get in free (limit of two per adult ticket). For more information or to purchase tickets, visit ChesShakes.com/Macbeth, or contact the Box Office directly by calling 410-244-8570 or visiting in person at 7 South Calvert Street. Discounts are available for groups of ten or more adults and active-duty military.
ABOUT CHESAPEAKE SHAKESPEARE COMPANY:
Founded in 2002 Chesapeake Shakespeare Company brings great classic theatre to Baltimore, Howard County, the state of Maryland, and beyond. The company offers performances of Shakespeare and other plays of classic stature that are unforgettable, challenging, and innovative. In 2012, Chesapeake Shakespeare Company acquired the Mercantile Safe Deposit and Trust Company building in downtown Baltimore, renovating it into a modern Globe Theater for indoor performances, while continuing to produce outdoor Shakespeare every summer at the PFI Historic Park in Howard County. The organization regularly serves 30,000+ people annually through artistic projects and intentional community engagement. CSC's vibrant education program includes an extensive matinee series, camps, classes, and in and out-of-school residencies. The company invites patrons, students, and neighbors to become part of the creative collaboration that generates powerful, magical theatre and a more purposeful, engaged, and connected community.